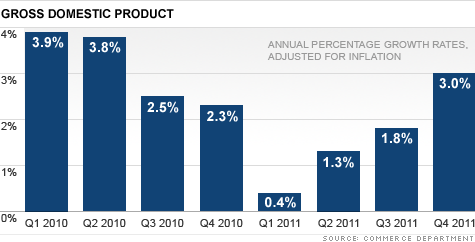 NEW YORK (CNNMoney) -- Economic growth was stronger than originally thought at the end of 2011 as consumers increased their spending and businesses stocked up their inventories.
Gross domestic product, the broadest measure of the nation's economy, grew at a 3% annual rate in the fourth quarter of 2011, the Commerce Department said Wednesday.
The government had initially said the economy grew at a 2.8% rate. The Commerce Department estimates the GDP figures three times, and Wednesday's report was its second estimate.
That's a major improvement from a 1.8% growth rate in the prior quarter, and the fastest growth since the second quarter of 2010.
"We are seeing what historically would be considered a healthy growth rate for the country," said Brian Hamilton, CEO of Sageworks, a financial information company. "Last quarter compares very favorably to the GDP growth rate over the past few years and indicates the country continues to recover from the recession."
Consumer spending picked up at an annual rate of 2.1% in the fourth quarter, slightly higher than originally reported. Spending on long-lasting goods, especially motor vehicles, helped drive GDP higher, as did increased spending at restaurants and hotels.
Meanwhile, businesses increased their inventories by $54.3 billion, after cutting back on their stock the prior two quarters.
A boost on that front can be seen as a double-edged sword. On one hand, it can be a sign of confidence in the economy. When firms predict greater purchases in the future, they build up their inventories. On the other hand, if consumers don't end up buying as much as firms had hoped, that could drag on GDP going forward.
Most economists are predicting U.S. economic growth slowed slightly in the first quarter, for this very reason.
"I think the inventory buildup does suggest there will be some modest kickback in the first quarter," said Wells Fargo Chief Economist John Silvia, who predicts GDP will grow at an annual rate around 1.6% to 1.8% in the first three months of 2012.
He points to a recent slowdown in durable goods orders, reported by the government yesterday, as a sign of weakness for the economy in early 2012.
Durable goods include long-lasting items like furniture, vehicles, machinery and appliances. Businesses picked up their spending on equipment and machinery at the end of 2011, as a special tax break was expiring, and now economists expect to see spending on such items soften slightly.