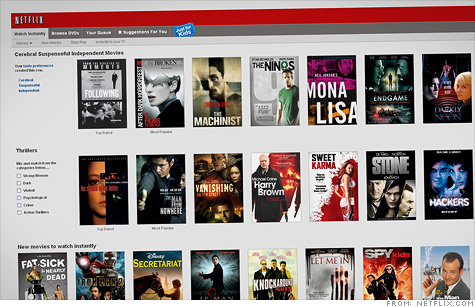 NEW YORK (CNNMoney) -- Netflix's key contract with Starz expired on Tuesday, causing a massive hit to its instant streaming catalog of movies and TV shows.
Pay-cable network Starz struck a four-year licensing deal with Netflix back in 2008. Netflix had been trying for months to negotiate a new contract, but talks fell apart back in September.
The Starz contract officially expired on February 28, so titles such as "Toy Story 3," "Scarface" and "Young Frankenstein" are no longer available on streaming from Netflix.
A significant amount of Starz' content catalog is Disney (DIS, Fortune 500) films, though it includes licensed titles from several other studios. Netflix spokesman Steve Swasey would not confirm how many titles were pulled.
Swasey implied that Netflix will be able to get some of those titles back by striking deals with other cable networks, saying that "only about 15 Disney titles are really non-replaceable."
"There's always an ebb and flow of title availability, and there always will be," Swasey said. "There's never a shortage of stuff. You'll see more titles soon."
As of January, Starz content accounted for 2% of viewing time, Swasey said.
Still, the loss highlights two major problems for Netflix (NFLX): a streaming catalog that some customers complain is lackluster, and the increasing costs of content.
Before the talks fell apart last year, Netflix called the Starz contract "one of our most important deals" -- because it was one of the few that gave Netflix streaming access to relatively recent movies.
Because Starz has licensing deals with several major movie studios, Netflix was able to piggyback on the arrangements and boost its catalog of recent releases.
Starz said it ended the contract talks because of "our strategy to protect the premium nature of our brand by preserving the appropriate pricing and packaging of our exclusive and highly valuable content."
Meaning: Starz wants more money. Netflix was able to score cheap contracts years ago, when streaming video hadn't fully broken into the mainstream. Now that streaming video is so popular, providers are upping the price tag for their content.
Those increasing costs have set off a vicious cycle. In order to offset content charges, Netflix began charging separate prices for its DVDs-by-mail and streaming video plans in September 2011.
That raised the cheapest-possible bill for customers who want both services from $10 to $16 a month. Outraged customers left thousands of comments on Netflix's blog, and in the third quarter of 2011, the company's U.S. subscriber base fell for the first time in years.
Millions of customers stayed on, but some have complained of a too-small streaming catalog. Outright loss of content, like the Starz expiration, leaves angry customers asking why they're paying more for less.
Netflix has been striking other deals to beef up its catalog. Last week, the company announced a multi-year agreement to get Academy Award-winning titles "The Artist" and "Undefeated," as well as other movies from The Weinstein Company.
Netflix is making an even bigger bet on TV, including studio-like moves. Last year Netflix licensed its first original series, "House of Cards," which stars Kevin Spacey and is due out in late 2012. In November, Netflix announced it would release a new season of the cancelled "Arrested Development" in 2013.
Meanwhile, studios now have a bargaining chip in the form of Netflix's competitors. Beyond direct rivals like Hulu and kiosk service Redbox (owned by Coinstar (CSTR)), big tech players like Amazon (AMZN, Fortune 500) and Google (GOOG, Fortune 500) are jumping into the streaming game.