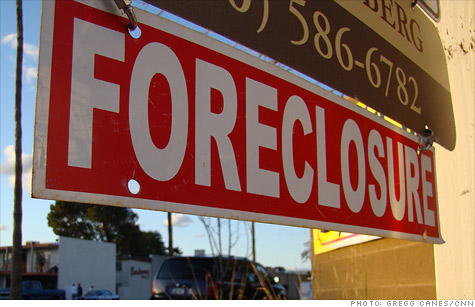 NEW YORK (CNNMoney) -- The number of homeowners who have fallen underwater on their mortgages -- owing more than their homes are worth -- climbed to 11.1 million in the last three months of 2011, a 3.7% increase.
Those in this upside-down position, also called negative equity, represent 22.8% of homeowners with mortgages. The count rose from 10.7 million borrowers (22.1%) only three months earlier, according to a report from CoreLogic.
The increase comes mainly from falling home prices and it's a troubling sign for housing markets, said CoreLogic senior economist Sam Khater.
It's one of the "double triggers" of default, he said. The other trigger is the inability to make payments.
"When they're upside down, borrowers may be current on their payments but they're more vulnerable to economic storms -- like job losses -- that could tip them over into default," he said.
About 8% of so of the underwater borrowers have already fallen behind on their mortgage payments. Such properties are likely to hit the market soon either as repossessed homes or a short sale.
When they do, they typically sell at steep discounts. Conventional sellers have to cut their prices to compete, keeping a tight lid on the broader housing market.
During the fourth quarter of 2011, a quarter of all home sales were of distressed properties and they sold for an average of 29% less than conventional sales.