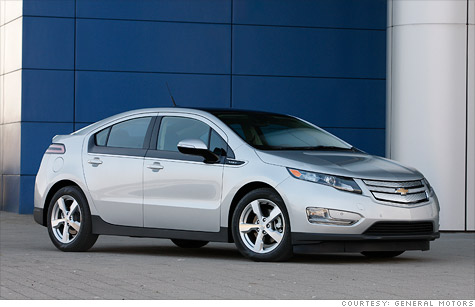 General Motors is temporarily halting production of the Chevrolet Volt due to slack sales.
NEW YORK (CNNMoney) -- President Barack Obama said recently he'd buy a Chevrolet Volt after he left office "in five more years."
It seems like General Motors could use that business much sooner. The automaker said Friday it is halting the Detroit production line for the Chevrolet Volt for five weeks as it works to sell down its existing inventory of the plug-in car.
As part of the shut down, GM will temporarily lay off 1,300 workers at the plant.
Sales of the gas-electric car have been flagging. GM had a set a goal of selling 10,000 Volts by the end of 2011, but was only able to sell about 7,600 by then.
Last month, Volt sales actually rose substantially compared to the prior months. Chevrolet dealers sold 1,023 of the cars in February compared to only 600 in January.
Still, GM (GM, Fortune 500) has more Volts sitting on dealer lots than it has buyers. GM had, in the past, said slow sales were the result of an insufficient supply of cars, not a lack of demand. Now, the carmaker is admitting that supply is no longer the problem.
"We have more than enough to meet our demand," GM spokeswoman Michelle Malcho said.
The automaker had recently launched a new marketing campaign to boost the car's image following a National Highway Traffic Safety Administration investigation into possible battery fires. That investigation closed last month after the agency determined there was no greater risk of fire in the Volt than in any ordinary gasoline-powered car.
Even so, GM made changes to the car to better protect the battery pack in side crashes.
During the investigation, GM offered to lend other cars to Volt owners who might be concerned about their safety and even offered to buy back the cars.
Besides Volts for sale in the U.S., the Detroit factory also produces a versions of the car for Europe where it sells with a somewhat different design as the Opel Ampera.
It is not unusual for automakers to temporarily shut down factories when inventories of certain models get backed up. The Volt, however, has been a halo vehicle for GM and, compared to more mainstream cars, sales goals for it were relatively modest.
When it was introduced, the Volt won numerous awards and has earned the recommendation of Consumer Reports magazine.
The Chevrolet Volt is a so-called "range-extended electric car." It can go about 35 miles on a fully charged battery before a gasoline engine generates power for further driving.