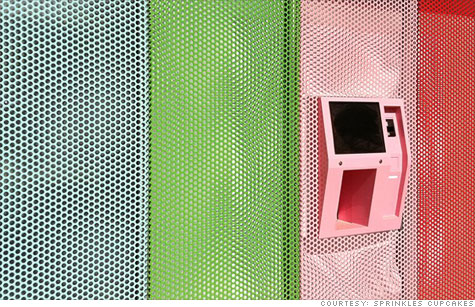 The Sprinkles cupcake ATM, set to open in Beverly Hills.
NEW YORK (CNNMoney) -- Get ready for an ATM where your dough comes out freshly baked -- with icing on top.
Sprinkles, a gourmet cupcake chain with 10 locations nationally, is set to open its first 24-hour cupcake vending machine on March 9 at its original store in Beverly Hills, Calif.
Company spokeswoman Nicole Schwartz says that there will be ten of the machines in operation by this summer, and even more by the end of the year.
At first, the Cupcake ATMs will all be within Sprinkles stores, but accessible from outside so that customers can indulge even when stores are closed.
Eventually, Schwartz said the machines will be at remote locations apart from the stores.
Sprinkles opened in 2005 and remains privately held. It has locations in Beverly Hills, Newport Beach, Palo Alto and La Jolla, California, as well as New York City, Chicago, Washington, D.C., Dallas, Houston, and Scottsdale, Ariz. The New York, Washington and Chicago locations are next in line for the cupcake ATM. (Pricey cupcakes: Your chance to invest)
The company had intended to call the machines 24-hour Sprinkles, but Schwartz said the name Cupcake ATM just kind of suggested itself.
There won't be an ATM fee per se, but cupcakes in the machine will cost $4, compared to $3.50 inside the store. The machines will only take credit or debit cards, no cash.
Schwartz said the selection in the machine will be rotated daily, although a few of the company's most popular selections, such as red velvet, will always be in the machine.
The machines will be able to hold 600 cupcakes at a time.
"It's going to be a lot bigger than a typical vending machine, let alone an ATM machine," she said.