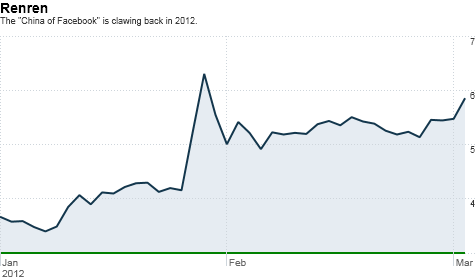 Click the chart for more on RENN.
NEW YORK (CNNMoney) -- Shares of Renren, one of China's largest social-networking services, jumped Friday on news that it will be in the new Windows 8 app store.
Renren, often dubbed the "Facebook of China," features an online games site, a social commerce site and a professional networking service.
Renren (RENN) said Friday that it is the first social networking company to partner with Microsoft for its new, tablet-optimized Windows 8. Renren's app is customized for Windows 8's tile-based layout.
The news comes the same week that Microsoft (MSFT, Fortune 500) unveiled a "preview" version of Windows 8, while at the Mobile World Congress conference in Spain.
Renren shares were up about 7% most of the day, though the gain narrowed to almost 3.7% by the end of trade.
It's another boost for Renren, whose stock has come back in a big way in 2012 thanks to its American counterpart: Facebook.
Renren's stock jumped more than 60% the week prior to Facebook filing for its $5 billion IPO. The stock is up more than 65% this year.
Many investors seem quick to bid up social media stocks, such as gaming company Zynga (ZNGA) and newly public reviews site Yelp (YELP), in the hopes that they too can benefit from Facebook's glow
It's a far cry from 2011. Although Renren shares popped almost 30% when they debuted on the New York Stock Exchange in May, they soon plunged -- and continued dropping for the rest of 2011 -- as investors began looking past the "China of Facebook" flashiness to focus more on Renren's financials.
The closer scrutiny of Renren came amid growing concerns about the credibility of other small-cap Chinese companies' public financial disclosures.
For example, shares of Sino-Forest, Focus Media (FMCN), China Media Express, Orient Paper (ONP) and RINO International all plummeted following allegations of accounting fraud. Renren has not been accused of any wrongdoing, however.