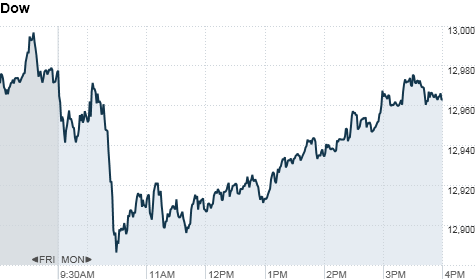 Click the chart for more stock market data.
NEW YORK (CNNMoney) -- U.S. stocks recovered quite a bit of lost ground but still finished in the red Monday, following the path of world markets, after China lowered its annual growth target.
The Dow Jones industrial average (INDU) lost 15 points, or 0.1%, the S&P 500 (SPX) slipped 5 points, or 0.4%, and the Nasdaq composite (COMP) decreased 26 points, or 0.9%.
World markets fell Monday, after Chinese Premier Wen Jiabao set a lower target for China's economic growth, underscoring the need to make the country's breakneck development more sustainable.
The government is aiming for economic growth of 7.5% in 2012, Wen said -- lower than the 2011 goal of about 8%. The Chinese economy often exceeds the official objective; last year it grew 9.2%.
"Even though China only lowered its target by half a percentage point, it's a telegraph to the rest of the world that the second largest economy is slowing," said Tom Schrader, managing director at Stifel Nicolaus.
China's lower forecast also suggests that the country's recent steps to ease monetary policy -- in an effort to maintain strong economic growth while getting inflation under control -- may not be working, said Schrader.
Aluminum-maker Alcoa (AA, Fortune 500) and Caterpillar (CAT, Fortune 500), which makes construction equipment, were the biggest laggards in the Dow amid worries that slower growth in China could pressure demand for their products.
Trading could be choppy this week, leading up to a big news day on Friday. On the domestic front, investors will get the latest snapshot of the U.S. labor market, with the release of the February jobs report.
In Europe, Friday marks the deadline for private creditors to sign off on Greece's debt write-down. Greece needs the debt deal to secure its €130 billion rescue package from the eurozone and avoid default.
Stocks closed modestly lower last Friday, with the Dow snapping a two-week winning streak.
World markets: European stocks closed lower. Britain's FTSE 100 (UKX) lost 0.6%, while the DAX (DAX) in Germany dropped 0.9% and France's CAC 40 (CAC40) shed 0.3%.
Asian markets ended lower. The Shanghai Composite (SHCOMP) closed down 0.6%, while the Hang Seng (HSI) in Hong Kong lost 1.4% and Japan's Nikkei (N225) dropped 0.8%.
Economy: The February ISM services index rose to 57.3, up from 56.8, which beat expectations.
Last week, the ISM manufacturing index for February slipped to 52.4, from 54.1 in January, indicating a slowdown in the sector's expansion.
Meanwhile, factory orders in January decreased 1% -- less than the 1.9% decline analysts were expecting. Factory orders rose 1.4% in December.
Companies: IBM (IBM, Fortune 500) shares hit all-time high above $200 share. Citigroup (C, Fortune 500) announced that it is exploring possible uses for Watson, IBM's supercomputer that was famous for beating two human contestants on the game show "Jeopardy" last year.
Online reviews site Yelp (YELP) retreated, falling more than 14% after spiking 64% to top $24 a share in their debut on the New York Stock Exchange Friday.
AOL (AOL) became the latest advertiser to pull advertising from Rush Limbaugh's radio show in response to his comments about a Georgetown law student who advocated healthcare coverage for contraception. AOL shares were flat Monday.
BP (BP) shares were higher Monday, after the British oil giant and plaintiffs involved in the legal battle over the Gulf of Mexico oil spill said Friday they reached an agreement. BP estimated it would have to pay about $7.8 billion in the Deepwater Horizon disaster settlement.
Apple (AAPL, Fortune 500) said in a post on its website that the tech company has "created or supported" some 514,000 jobs in the United States, either through direct employment, the "App economy" or other means. Shares were down more than 2%, however, ahead of the company's highly-anticipated iPad announcement Wednesday.
Currencies and commodities: The dollar lost ground against the British pound, the euro and the Japanese yen.
Oil for April delivery rose 6 cents to settle at $106.75 a barrel.
Gold futures for April delivery fell $5.90 to settle at $1,703.90 an ounce.
Bonds: The price on the benchmark 10-year U.S. Treasury fell, with the yield rising to 2% from 1.99% late Friday.