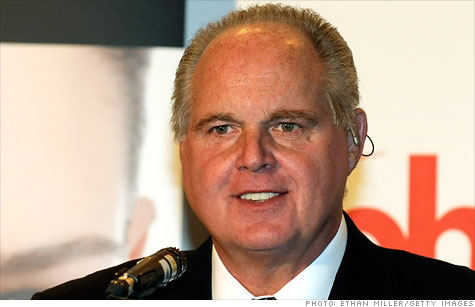 Conservative talk-show host Rush Limbaugh. AOL is one of several companies to pull ads from his show.
NEW YORK (CNNMoney) -- AOL joined the growing list of companies on Monday to announce suspensions of advertising on the Rush Limbaugh Show, responding to the radio host's comments about a Georgetown law student who advocated health care coverage for contraception.

"At AOL (AOL) one of our core values is that we act with integrity," the company said in a Facebook post. "We have monitored the unfolding events and have determined that Mr. Limbaugh's comments are not in line with our values."
Also announcing ad pulls Monday was legal adviser Tax Resolution Services and herbal supplement maker Heart & Body Extract. Other companies that had previously pulled ads in response to the controversy include QuickenLoans, technology services provider Citrix Systems (CTXS), data backup service Carbonite (CARB) and mattress company Sleep Number, a unit of Select Comfort (SCSS).

In addition, insurer Allstate (ALL, Fortune 500) and clothing maker Bonobos said Monday that they inadvertently had ads placed on Limbaugh's show and would be discontinuing them. A dozen companies have now ordered their ads pulled in response to the controversy.
Outcry over Limbaugh's comments began last week after he criticized Sandra Fluke, a student at Georgetown Law, for stating her views about contraception coverage at a hearing on Capitol Hill. Limbaugh said Fluke's advocacy made her a "slut" and a "prostitute."
Limbaugh apologized for his remarks Saturday, saying his "choice of words was not the best, and in the attempt to be humorous, I created a national stir."

Top Republicans and Democrats have denounced the talk-show host, the most popular in the nation, and President Obama called Fluke on Friday to offer his support.

Premiere Networks, the CC Media Holdings (CCMO, Fortune 500) unit that syndicates Limbaugh's radio show, said in a statement Monday that it would keep running Limbaugh, saying his show is part of its mission to air various political viewpoints.
"We believe he did the right thing on Saturday, and again this morning on his radio show, by expressing regret for his choice of words and offering his sincere and heartfelt apology to Ms. Fluke," Premiere said.

Limbaugh's remarks have sparked a wave of online activism, with thousands signing petitions calling for advertisers to withdraw from his program.

Sears Holdings (SHLD, Fortune 500) is among the firms that have been listed as Limbaugh advertisers in online petitions, though it denied this Monday and said a local radio station had instead apparently run a recent ad "adjacent" to Limbaugh's program.

The company said in a statement that it "does not buy media or sponsorships on the Rush Limbaugh Show" was "looking into" the matter.

Three female Iraq War veterans have also called for the program to be removed from the American Forces Network, which broadcasts to American service members around the world. Pentagon press secretary George Little said Monday, however, that the Defense Department had no plans for such a move.

- The CNN Political Unit and CNN's Barbara Starr contributed to this report.