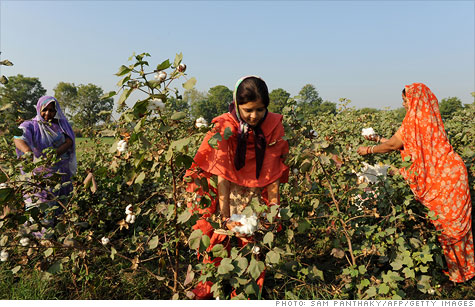 Farm hands pluck cotton in a village in India. The world's second-biggest cotton producer and exporter indefinitely banned all exports of cotton on Monday.
NEW YORK (CNNMoney) -- India banned all cotton exports on Monday, causing U.S. cotton futures to surge and igniting fears of another jump in prices for cotton goods.
India decided to immediately impose the ban because it's worried about a possible supply crunch in the country. One reason: India's cotton exports may have overshot government targets last year, its Directorate General of Foreign Trade said in a statement.
U.S. cotton futures jumped 4.5% -- the most allowed in a single day of trading -- to 92.23 cents per pound following the news.
"This India development really caught the entire cotton industry and traders off guard because it came with no warning," said Phil Flynn, senior market and commodities analyst with PFG Best.
Flynn said the market reaction to India's move reflects concerns that it could start a new rise in cotton prices that mirrors last year's rally.
Cotton prices hit an all-time high of $2.27 a pound last March due to a global supply crunch for the commodity.
Cotton clothing manufacturers responded to that steep price jump first by raising prices for consumers and eventually using less cotton and more blended fabrics such as poly-cotton.
Flynn said cotton prices cooled off toward the end of last year and reached as low as 84.35 cents a pound.
"We're in March again. Could we potentially have another big rally like last March? Maybe," said Flynn. "A void in the supply chain from India's action could cause a price spike."
It would be deja vu for consumers, too.
"Cotton clothing prices have been coming down since last year as supply caught up with demand. But that could change now," he said.