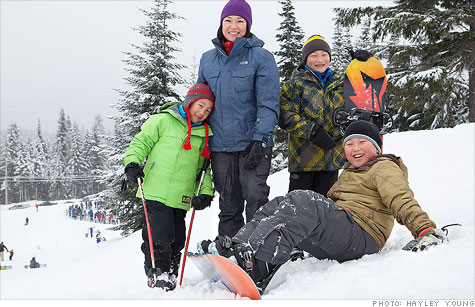 June Shin is a divorcée with children, who lost half her retirement savings and sold her home. Now she's learning how to get her income back on track.
(MONEY Magazine) -- Last year was an eventful one for June Shin. She divorced her husband of 11 years, and in the settlement gave up about half of her 401(k) and company stock.
She and her ex also sold the five-bedroom home where they'd lived for nine years and used half the $150,000 proceeds to pay off debt. June subsequently rented a townhouse for herself and their three sons, ages 6, 9, and 11, of whom she has partial custody.
"I'm basically starting over again, personally and financially," says Shin, 40, a business manager at a large company.
She isn't totally back to square one. Shin still has $102,000 in her 401(k); plus, she's stashing 10% of her $97,000 salary in her plan and $400 a month in the bank. But now that she's down to one income, she wonders whether she can save enough to get back on track for retirement. She's also not sure if she should buy a home.
Financial planners Heidi Davis of Bellevue, Wash., and Peggy Cabaniss of Lafayette, Calif., offer answers.
THREE FIXES
Follow the money
"The best thing any newly divorced parent can do is get stabilized," says Cabaniss. She recommends that Shin do a thorough analysis of cash flow using a program like Quicken to see where her $5,000 monthly take-home pay goes and to identify ways to save more of it.
Reschedule retirement
Shin had planned to stop working at 60. But with her 401(k) halved, she'd need to put away $30,000 a year to get there. A more realistic option, Cabaniss says, would be to boost her contribution to at least 13% and retire at 65.
Shin should also be better diversified. Her portfolio is now 100% in stocks. Cabaniss suggests Shin put 35% of her 401(k) in a bond fund and 65% into stock funds. She should also cash out of company stock systematically, using the proceeds to fund her IRA and college savings.
Keep renting - for now
A 20% down payment on a four-bedroom in the area runs upwards of $100,000. Shin has $24,000 in cash savings -- but that should be set aside for emergencies.
As a single mom providing for four, she should aim to have a cushion of up to nine months' expenses (about $45,000). After hitting that, then she can start on a down payment if she wants to buy.
Besides, says Davis, "there are so many changes and stressors surrounding a divorce, it may make sense to stay put awhile."
Where she stands
TOTAL ASSETS: $171,000
401(k): $102,000
Company stock: $27,300
Savings account: $24,000
College savings: $15,300
Roth IRA: $2,500
TOTAL LIABILITIES: $31,800
Car loan: $26,000
Credit card debt: $5,800
Do you know a Money Hero? MONEY magazine is celebrating people, both famous and unsung, who have done extraordinary work to improve others' financial well-being. Nominate your Money Hero.