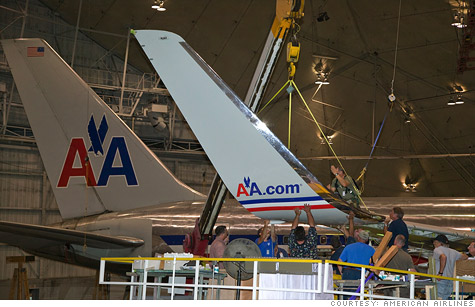 American Airlines' ground workers are to have their pension plans frozen rather than terminated and dumped on a federal agency.
NEW YORK (CNNMoney) -- American Airlines retreated Wednesday on its proposal to terminate its workers' pension plans and dump them on a federal agency as part of its bankruptcy reorganization.
The company will freeze the plans instead.
The move, which must be approved by a judge, means employees would not accumulate any additional benefits -- and American's future contributions to the underfunded plans would be reined in.
But the new proposal could spare employees cuts in promised benefits and thus is seen as a win for the unions, which are facing management demands for billions in other concessions, including deep layoffs.
It also could also clear the way for management to win an agreement on the other cost savings it is seeking.
"We believe this solution would remove a major obstacle to reaching consensual agreements," said Jeff Brundage, American's senior vice president of human resources, in a letter to employees.
Freezing pension plans is a cost-saving measure for companies facing significant contributions in coming years. Bank of America (BAC, Fortune 500) and General Motors (GM, Fortune 500) have announced pension plan freezes in recent months for some of their employees.
The move by American is a clear win for the Pension Benefit Guaranty Corp., the federal agency that would have been responsible for the underfunded plans if they had been terminated.
American estimates that its funding gap in the plans stands at $4.8 billion, while the pension agency puts the difference between plan assets and obligations at closer to $10 billion.
"Bankruptcy forces tough choices, but that doesn't mean pensions must be sacrificed for companies to succeed," said Josh Gotbaum, director of the agency.
American parent AMR Corp. (AAMRQ) filed for bankruptcy on Nov. 29, saying it needed to win billions in annual cost savings from employees and other creditors to compete with rivals such as Delta Air Lines (DAL, Fortune 500), United Continental (UAL, Fortune 500) and U.S. Airways (LCC, Fortune 500) that made their own trips through bankruptcy court in the last decade.
American is still seeking to cut 13,000 jobs from its staff of 88,000 active employees, part of plans to save $1.25 billion in annual labor costs.
But it said that the savings it would have achieved through dumping the pensions plans will now be gotten by raising additional capital during bankruptcy rather than by making deeper cuts elsewhere.
The Transport Workers Union, which represents unionized ground workers such as mechanics and baggage handlers, has agreed to the pension freeze. The union is facing the deepest staff cuts under American's plans to relocate some of its work overseas.
"We would have preferred to keep the existing defined benefit plan in place," union President James Little said in a statement. "But that simply was not possible."
The Association of Professional Flight Attendants said it is meeting internally to consider the proposal.
The airline has not yet extended the freeze offer to its pilots, who face the deepest cuts to their pension benefits if the plan is terminated. But a freeze is likely there as well.
The company said if the plan is to be continued, the airline needs to address the option pilots have to take a lump-sum payment when they become eligible for retirement at age 50.
About 5,200 pilots are retirement-eligible out of the 10,700 pilots on the airline's seniority list, which includes about 2,700 who are on furlough. The company said it could be crippled if too many took that lump sum when the airline emerges from bankruptcy. But it said it is willing to freeze the pilots pension as well if that issue can be agreed upon.
In a statement, Allied Pilots Association President Dave Bates said the union backs the freeze and the elimination of the lump-sum payment, but needs to have it ratified by members covered by the plan.