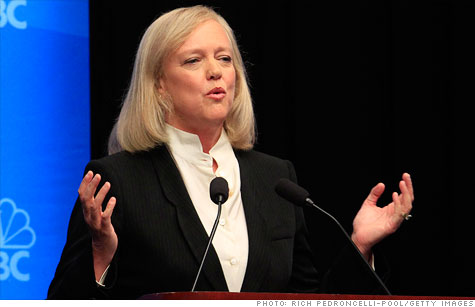 Hewlett-Packard CEO Meg Whitman.
NEW YORK (CNNMoney) -- Women have made modest advances in the boardroom over the past few years, now holding roughly 10% of directors' seats worldwide, according to a new report.

A survey of over 4,300 companies in 45 countries by research firm GMI Ratings found incremental gains globally over the past few years.

Women held 10.8% of board seats in the companies surveyed as of the fourth quarter of last year, the highest share ever. That's up from 9.8% in late 2010 and 9.3% a year prior.

More than 60% of companies surveyed had at least one female director, up from 58% in last year's survey, though just 2% had a female chair. Some 9.8% had at least three female directors.
The survey found that gender balance varies widely in boardrooms globally. In Norway, women held 36.3% of board seats, compared with just 1.1% in Japan.

The U.S. came in only slightly above average for industrialized nations, with 12.6% women directors. Roughly 10% of the American companies in the survey had at least three female directors on their boards.
A number of initiatives are under way to increase women's representation on U.S. boards, including one by GMI Ratings. The firm is helping companies connect with directors with diverse backgrounds, skills and experience through the Diverse Director DataSource.
Qualified women can nominate themselves for inclusion in the database.