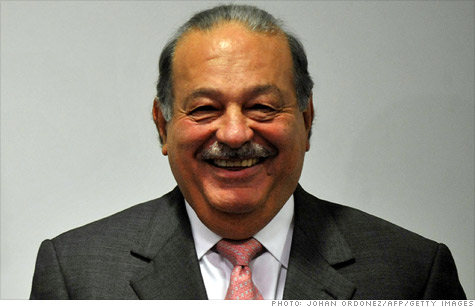 Carlos Slim Helu has many reasons to smile. About 69 billion of them.
NEW YORK (CNNMoney) -- Say hello to the 0.00001%.
Forbes Magazine released its annual "Billionaires List" on Wednesday, with Mexican telecom mogul Carlos Slim Helú retaining his status as the world's richest person for the third year in a row.

Slim checked in with a net worth of $69 billion, outpacing Microsoft (MSFT, Fortune 500) co-founder Bill Gates and his $61 billion fortune.
Berkshire Hathaway (BRKA, Fortune 500) head Warren Buffett, who has donated much of his wealth to Gates' charities, ranked third with $44 billion, while French luxury-goods king Bernard Arnault, Europe's richest person, landed in fourth with $41 billion.
Forbes counted a record 1,226 billionaires worldwide, up from 1,210 in 2011. This year's list includes 104 women, among them Wal-Mart (WMT, Fortune 500) heiress Christy Walton, the world's richest woman and No. 11 overall with a net worth of $25.3 billion.
New York mayor Michael Bloomberg ranked No. 20 with a net worth of $22 billion, while Newt Gingrich benefactor Sheldon Adelson was No. 14 with $24.9 billion.
In total, the billionaires on this year's list have a net worth of $4.6 trillion, up $100 billion from last year.