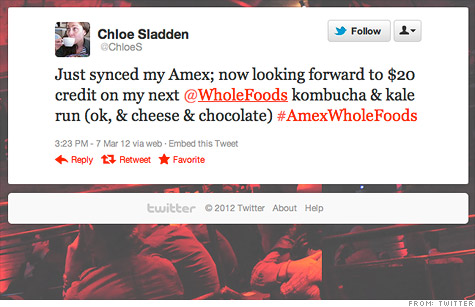 New York (CNNMoney) -- American Express wants to make your Twitter hashtags more valuable.
The company announced a partnership this week with Twitter that will let users unlock discounts through the social media platform.
Here's how it works: American Express (AXP, Fortune 500) card holders sync their cards by signing in with Twitter. Once a card is synced with Twitter, users can tweet specified hashtags to a select group of participating merchants in order to unlock various discounts.
For example, users who sync their AmEx cards and tweet #AmExWholefoods will automatically be credited $20 on their next purchase of $75 or more at Whole Foods.
"I really believe that this is turning tweets into transactions," says American Express executive Elizabeth Rutledge. "We need to be where our customers are. They're on these platforms using them every day."
It's also a potential data gold mine for retailers. "We have the ability to give back these great analytics to merchants," Rutledge says.
Participating merchants include Zappos, McDonald's (MCD, Fortune 500), H&M, Seamless, Whole Foods, FedEx (FDX, Fortune 500), Best Buy (BBY, Fortune 500) and several others.
It's not the first time American Express has teamed up with a social network to offer up discounts.
At last year's South By Southwest tech conference, American Express partnered with Foursquare to offer card holders discounts at local merchants.
"They are at the forefront of social experimentation among the credit card companies," says Internet strategy advisor Rakesh Agrawal, who closely tracks the daily-deals market.
AmEx has experimented with special offers on Facebook as well -- and each time, they've customized their approach.
"They've thought through what are the assets of each platform and built each offering around that," Agrawal says.