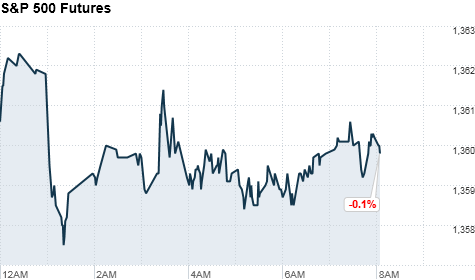 Click chart for more premarkets data.
NEW YORK (CNNMoney) -- A slightly better-than-expected jobs report and positive news out of Greece will likely give stocks a lift Friday.
The Dow Jones industrial average (INDU), S&P 500 (SPX) and Nasdaq (COMP) futures were slightly higher ahead of the opening bell. Stock futures indicate the possible direction of the markets when they open at 9:30 a.m. ET.

The jobs report showed that the U.S. economy added 227,000 jobs in February, and the unemployment rate remain unchanged at 8.3%. That's down from January, when employers added 243,000 jobs.
A CNNMoney survey of 19 economists had predicted that the economy added 210,000 jobs in February, with an 8.3% unemployment rate.
In Greece, creditors agreed to a plan to restructure Greek bonds, government officials said Friday. More than 85% of private bondholders agreed to the deal, Deputy Prime Minister Evangelos Venizelos said in a statement.
The agreement on private-sector involvement, as it is known, is the final hurdle Greece must clear to meet all the conditions of its second €130 billion bailout program from the European Union and International Monetary Fund.

European finance officials could approve the final portion of Greece's bailout as early as Friday -- staving off, for now, the prospect of a disorderly default.
Zahid Siddique, Portfolio Manager at Gabelli Equity Trust, said markets were not reacting to the Greek debt deal because of an expectation, established over the past few days, that a deal would be reached.
"There are other concerns now," Siddique said. "What is next? Are we done? Will other countries need assistance? We're not totally out of the woods."
U.S. stocks closed higher Thursday on hopes for a finalized deal in Greece.

World markets: European stocks were mixed in morning trading. Britain's FTSE 100 (UKX) slipped by 0.1%, while the DAX (DAX) in Germany edged higher by 0.2% and France's CAC 40 (CAC40) increased by 0.1%

Inflation in China slowed dramatically in February, as temporary price hikes related to Lunar New Year faded.
Consumer prices rose 3.2% from a year ago, China's National Bureau of Statistics reported Friday -- a steep slowdown from a 4.5% inflation rate in January.
Asian markets ended higher. The Shanghai Composite (SHCOMP) added 0.8%, the Hang Seng (HSI) in Hong Kong rose 0.9% and Japan's Nikkei (N225) increased 1.7%.
On Friday, the Nikkei briefly crossed 10,000 for the first time since August, before closing at 9,929.

Economy: Aside from the highly anticipated jobs report, data is also due on the trade balance and wholesale inventories.
The U.S. trade deficit for January is expected to total $48.2 billion, according to a survey of analysts by Briefing.com -- down from $48.8 billion in December.

Wholesale inventories for January are expected to have increased by 0.6%, after increasing 1% the month prior.

Companies: Firms including Ann Taylor (ANN) and cruise company Carnival (CCL) will release their quarterly results on Friday.

Analysts surveyed by Thomson Reuters expected Ann Taylor to post quarterly earnings of nine cents a share on $567 million in revenue. The company missed on earnings, reporting 4 cents per share, but hit on revenue.
Carnival is expected to report a loss of 8 cents a share and $3.6 billion in revenue.

Green Mountain Coffee Roasters (GMCR) shares dropped 14% in premarket trading, after Starbucks (SBUX, Fortune 500) announced that it will begin selling a single-service coffee machine of its own.

Green Mountain currently dominates the single-serve market with its popular Keurig, or K-Cup, machines.
Currencies and commodities: The dollar strengthened against the euro, the British pound and the Japanese yen.
Oil for April delivery rose 34 cents to $106.92 a barrel.
Gold futures for April delivery rose $1.30 to $1,700 an ounce.
Bonds: The price on the benchmark 10-year U.S. Treasury slipped, pushing the yield up to 2.02% from 2.01% late Thursday.