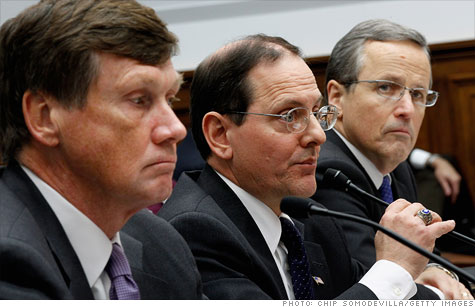 Freddie CEO Charles Haldeman, left, FHFA acting director Edward DeMarco, center, and Fannie CEO Michael Williams testified before Congress in December.
NEW YORK (CNNMoney) -- Federal regulators have taken a chainsaw to executive compensation at Fannie Mae and Freddie Mac.
Going forward, the Federal Housing Finance Agency said Friday, the salaries for CEOs at the troubled housing finance giants will be capped at $500,000.
In addition, the compensation of about 70 other executives could be cut based on rigorous new performance standards.
Big executive paychecks at Fannie Mae and Freddie Mac have inspired outrage from the public, since the companies lost billions of dollars in the housing collapse and had to be bailed out by U.S. taxpayers. In fact, Fannie and Freddie were the biggest recipients of federal bailouts.
Critics blame the companies for contributing to the housing crisis.
The current CEOs, Charles Haldeman Jr. of Freddie Mac (FMCC, Fortune 500) and Michael Williams of Fannie Mae (FNMA, Fortune 500), are both set to leave their jobs soon, according to FHFA. Each was slated to receive $5.4 million this year. The agency did not say how much they would actually be paid.
The new rules will put a $500,000 cap only on the pay of the companies' CEOs. In fact, their pay will be eclipsed by some of their top execs.
According to FHFA, the chief financial officer at Freddie Mac is scheduled to make $3.15 million this year; several other top executives will each make more than $1.75 million.
And at Fannie, the chief financial officer stands to make $2.88 million, followed by two other executives making more than $2.5 million.
The FHFA said it is trying to ensure that the CEOs are supported by a cabinet of high-quality executives.
All of this pay is subject to possible reductions based on missed performance thresholds, in accordance with the FHFA's new "scorecard" of executive accountability announced Friday. This scorecard measures executives against myriad factors, including the risk of their investments and their ability to maintain foreclosure prevention.
The federal government took Fannie Mac and Freddie Mac under conservatorship in September 2008. Fannie and Freddie were given cash infusions to cover losses on mortgages they owned and guaranteed. By the end of 2011, taxpayer bailouts to the companies reached $183 billion.
In January, the Securities and Exchange Commission charged the former CEOs, Daniel Mudd of Fannie Mae and Richard Syron of Freddie Mac, and four other executives with securities fraud for allegedly misrepresenting their holdings of high-risk mortgage loans.