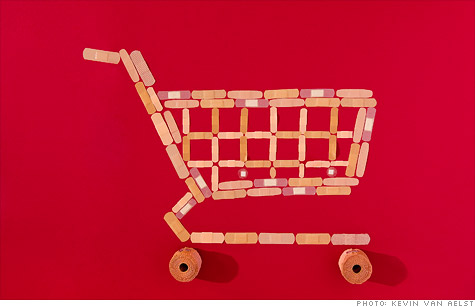 Individual health insurance plans can be pricey, but knowing where to look can alleviate the pain.
(MONEY Magazine) -- The days when you could count on having health coverage through a job are long gone.
Recently 40% of the workforce was made up of nonstandard workers, including temporary, contract, or part-time workers who often have no benefits, up from 27% in 2005, according to a study funded by the Department of Labor. Moreover, many firms that offer benefits have cut their contributions toward workers' spouses and children, according to HR consultancy Towers Watson.
The 2010 health reform act aims to increase the options for individual coverage, but most of the changes don't kick in until 2014. For now, solo insurance is still expensive, can be difficult to get, and may have coverage gaps. These steps will help you get the best deal.
Step 1. See if another form of group coverage is cheaper
Search for an industry professional group that gives members access to a group policy. Just vet these plans carefully; those marketed through trade groups may have very limited benefits, such as a cap on hospital stays, says Cheryl Fish-Parcham of advocacy group Families USA.
If you're a one-man shop, ask an agent (find a list at nahu.org and get references) about a sole proprietor plan. Fifteen states allow self-employed people to buy this kind of plan, which allows everyone to get coverage regardless of health -- and may be cheaper than an individual plan.
Step 2. Healthy? Go online
Most individual policies are purchased directly from a private insurer, through a website or via an agent.
In stellar health? Plug your info into an online comparison site such as ehealthinsurance.com. All plans will have a varying menu of premiums, benefits, deductibles, and other costs, so you need to weigh the tradeoffs.
To save on premiums, increase your deductible: A healthy family of four, for example, could save $3,000 a year in premiums with an annual deductible of $5,000 vs. $1,800.
Don't go so high, though, that the maximum-out-of-pocket would break you. "That's the number you'll hit if something serious happens," says Bruce Benton, a health insurance agent in Sherman Oaks, Calif.
Also note whether there's an additional deductible for brand-name drugs or hospital visits and whether the deductible is per person or per family.
You may see advertisements for short-term or temporary plans that last from one month up to a year, and that cost as little as $40 a month. Careful -- should your health deteriorate, you're likely to pay more for a regular policy once the short-lived plan expires, says Dallas insurance agent Carolyn Goodwin, or not qualify for one at all. (It's okay to get a short-term policy when you have new group coverage lined up for a set date.)
Step 3. If you have a chronic condition, use an agent
More than a third of insurance shoppers are denied coverage or charged more because of a health issue, according to the nonprofit Commonwealth Fund. So anyone with even a minor health issue (such as asthma or high blood pressure), should shop through an agent.
The agent should know which insurers are your best bet. You may want to split family members among several policies.
Step 4. Look at government programs
If private insurance is a no-go, you have two government-based options. Anyone can get coverage via his state's high-risk insurance pool -- you'll pay about 150% of the cost of an individual policy (see healthcare.gov) -- or a similar backstop.
Thanks to health reform, those who have been uninsured for the prior six months will qualify for their state's Pre-Existing Condition Insurance Plan (pcip.gov). The program, intended to bridge the gap until new options are introduced in 2014, will cover you for rates similar to those that healthy people pay in your state (a 50-year-old in Minnesota, for example, would pay $220 a month).
Send The Help Desk your health care questions
Your kids may also be able to get insurance from your state's Children's Health Insurance Program (CHIP); the income cap for a family of four in some states is as high as $69,000 a year.
Why it's tough to go alone
The coverage on an individual health policy usually isn't as good as a group plan, and it's often a budget buster.
Average premium
Individual non-group plan: $3,606
Individual group plan: $1,002
Family non-group plan: $7,102
Family group plan: $4,072
Average deductible
Individual non-group plan: $2,498
Individual group plan: $675
Family non-group plan: $5,149
Family group plan: $1,521
Note: Group plan numbers are for a PPO plan.
Source: Kaiser Family Foundation
Do you know a Money Hero? MONEY magazine is celebrating people, both famous and unsung, who have done extraordinary work to improve others' financial well-being. Nominate your Money Hero.