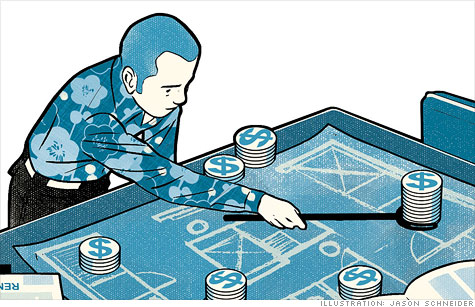 When remodeling, create a financial plan upfront and contractors can tailor proposals to fit what you can afford.
(MONEY Magazine) -- Budgeting for a large remodeling project presents a bit of a chicken-and-egg problem: You won't have a feel for the cost until you get bids from contractors.
But unless you give pros a ballpark figure from the start, they'll have to guess at what to include in their bids -- and they'll come back to you with a huge range of prices for very different plans.
"A faucet can cost $200 to $900, a window can be $400 to $1,200," says Madison contractor Mike Gasch. "I need to know where to aim."
To solve this conundrum, do some calculations first.
1. Start with average costs |
When insurance companies need to pinpoint construction costs, they multiply the length by the width of the space and then multiply that by the project's typical cost per square foot.
Albert Paxton, an estimator who provides such data to claims adjusters and contractors, pegs average per-square-foot costs of remodeling jobs at this:
Kitchen: $174
Powder room: $133
Master bathroom: $160
Family room: $92
2. Tweak to fit the scope
These numbers are for gut remodels, meaning the room is demolished right down to the framing and rebuilt.
With a less involved project -- in the kitchen, say, you might be refacing the cabinets and replacing the countertops and appliances instead of tearing out everything -- cut your number by about 30%, says Paxton.
For a cosmetic update, as in fresh paint on the cabinets plus new lighting and hardware, reduce it by about 60%.
3. Adjust for your location
A plumber working in Manhattan might charge twice the hourly rate of one in Statesboro, Ga.
Same goes for everyone from laborers to architects. In a metro area along the Northeast or Pacific seaboards, add 30% to 40% (use your judgment about your market). In a rural area, especially in the South or Midwest, drop it by 15% to 20%.
4. Modify for style
These figures assume you're buying mid-range fixtures and finishes. If you're going upscale, as in granite countertops and stainless-steel appliances, or stone bathroom tiles and a separate soaking tub and walk-in shower, raise your number by 30% to 40%, depending on how elaborate you're getting. For an economy job, say at a rental property, cut it by 25%.
Make your number fit your finances by adjusting items 2 and 4, then be upfront about your bottom line with contractors who look at the job.
"If I have a good feel for your budget," says Cambridge, Mass., contractor Charlie Allen, "I can deliver maximum value within your financing."
MONEY magazine is celebrating people, both famous and unsung, who have done extraordinary work to improve others' financial well-being. Nominate your Money Hero.