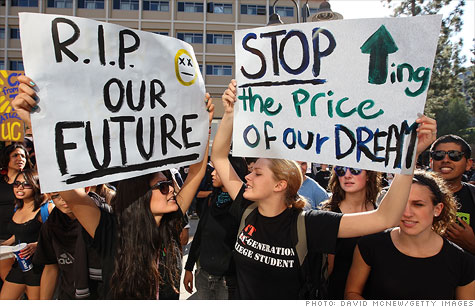 Students protesting the rising cost of higher education. Interest rates on subsidized loans are set to double.
WASHINGTON (CNNMoney) -- With little more than three months until the interest rates on federally subsidized student loans double, students are pushing lawmakers to help them out.
On July 1, the interest rate on federal subsidized loans will double to 6.8%. That means students taking out loans for the next school year will eventually dig deeper in their pockets to pay them off.
Nearly 8 million students have subsidized student loans, which means the federal government subsidizes the interest rate for lower- and middle-income families based on financial need.
Without congressional help, students borrowing the maximum $23,000 in subsidized loans are poised to pay an extra $5,000 over a 10-year repayment period.
That's why the consumer advocacy group U.S. Public Interest Research Group delivered 130,000 student petitions to lawmakers on Capitol Hill on Tuesday, asking Congress to stop the rates from doubling.
"We've got 110 days to fix this problem," said Rep. Joe Courtney, a Connecticut Democrat, who is sponsoring a bill to extend current interest rates. "Middle class families, every single day, are struggling in terms of making sure their kids have a chance to succeed in life."
Subsidized student loan interest rates used to be 6.8%. But when Democrats took over the House in 2007, they passed phased-in cheaper rates for subsidized student loans. The rates fell to a current low of 3.4% for subsidized Stafford loans this past school year. The rates are scheduled to revert back to 6.8% for the 2012-2013 school year.
Student loans are a big deal. The Federal Reserve of New York last week reported that the $870 billion in student loan debt tops $693 billion in credit card debt and $730 billion car loan debt.
And with unemployment just below 24% for teenagers and 14% for those ages 20 to 24, more young people are going back to school or staying in school, according to new data by Equifax. Last year, new student loans grew by 4%, the firm reported Tuesday in its National Consumer Credit Trends Report.
Additionally more students struggle to pay back those loans. Student loan delinquencies involving payments more than three months late rose 14.6% in 2011 from the year before, according to Equifax.
President Obama urged lawmakers in his State of the Union address to stop this student loan rate hike from going into effect. But the deficit-conscious Congress has yet to act, especially since extending the 3.4% rate would cost $5.6 billion a year, according to FinAid.org.
While the president has focused on expanding access to college for low- and middle-income children, lawmakers have taken several steps to whittle away at student aid.
Congress has eliminated subsidized loans for graduate students, as well as most discounts. They also cut $8 billion out of the Pell Grant program for low-income students and reduced the income threshold for eligibility for a full Pell Grant.
The impending higher interest rates on subsidized Stafford loans worries Samantha Durdock, a sophomore at the University of Maryland in College Park, who currently has $8,000 in subsidized Stafford loans and expects to borrow another $15,000.
"Even though graduation is several years away, I am worried about the amount of debt I will have," Durdock said at the Capitol Hill event. "If interest rates double, the extra debt might also impact my ability to pay basic expenses like rent."