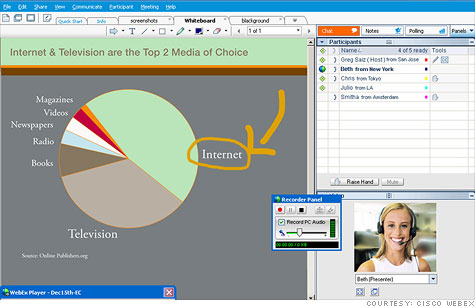 NEW YORK (CNNMoney) -- Tiny online meeting company SalesCrunch -- with just 10,000 users and 15 employees -- has made an offer to mighty Cisco Systems for its world-leading collaboration platform WebEx.
Insisting that the offer is not a publicity stunt, SalesCrunch has offered Cisco $1 and a 15% stake in the new company. SalesCrunch said that by acquiring WebEx, Cisco (CSCO, Fortune 500) and WebEx's more than 5 million users will all benefit.
The problem with Cisco's ownership of WebEx, according to SalesCrunch, is that the meeting software is too far outside the company's wheelhouse of switches and routers. Like Skype when it was under eBay's (EBAY, Fortune 500) umbrella, Cisco isn't giving WebEx developers the tools they need to modernize the product, SalesCrunch argues.
Some industry analysts agree.
"It makes sense for Cisco to sell WebEx," said Rebecca Wettemann, analyst at Nucleus Research. "The bottom line is Cisco is not a software company and thus not a great match for WebEx."
Would Cisco go for such a deal? The company wasn't immediately available for comment.
Cisco bought WebEx in 2007 for $3.2 billion to break into the then-burgeoning communication applications space. But the kinds of companies that buy collaboration software are completely different from the ones that buy Cisco's core networking products.
What's more, real-time communication has since evolved and become more integrated with the desktop or browser, as is the case with tools like Google's (GOOG, Fortune 500) app suite or Microsoft's (MSFT, Fortune 500) Lync.
As evidence that Cisco can't properly support WebEx, SalesCrunch points to the fact that Cisco has a history of simply killing off non-core products.
Last year, Cisco terminated most of its consumer product lines, including Flip video cameras and its Umi home teleconferencing system, laying off 16% of its workforce in the process. WebEx had been rumored to be next on the chopping block, yet nothing ever came of that.
"Cisco's innovator's dilemma has extended to WebEx," said Sean Black, CEO of SalesCrunch. "Cisco can't just take all of its customers and launch them onto a modern platform, because WebEx customers would leave the way Netflix (NFLX) customers did."
Yet SalesCrunch's solution is to do just that: The company wants to buy WebEx for its user base, not the technology. Over a period of 12 to 18 months, Black said that SalesCrunch would phase out the WebEx technology, and transition them to the SalesCrunch software.
About 1 million, or 20% of WebEx's customers will leave, Black predicted, most of them switching to rival GoToMeeting, which is owned by Citrix Systems (CTXS).
Black said the reason it plans to leave WebEx for dead -- if it is successful in buying the business from Cisco -- is that it's an outdated technology, with software that can't utilize social networking, analytics, or any modern advances. SalesCrunch, by contrast, is browser-based, so it can be built to incorporate third-party social or analytical software.
Analysts were skeptical of the terms of SalesCrunch's offer though.
"Cash deals draw more serious attention, and this one is for $1," said Colin Gillis, analyst at BGC Partners. "I don't see them parting with WebEx anytime soon. The company's clearly restructuring, but WebEx is not one that they have been telegraphing as up for sale."
SalesCrunch admitted that Cisco wouldn't likely bite at first, and it would take a push from shareholders to force Cisco's hand. But the company also noted that if Cisco were to get rid of WebEx, no other company has stepped up to buy it.
Black said it's unclear how much the 15% stake will be worth, but he noted that it will be "more substantial than if Cisco kills WebEx like they did with Flip." He also said the advantage for Cisco would be that WebEx would come of the company's books immediately.
"The alternative for Cisco is to lay off thousands more people and shut down the most-used online meeting business," he said.