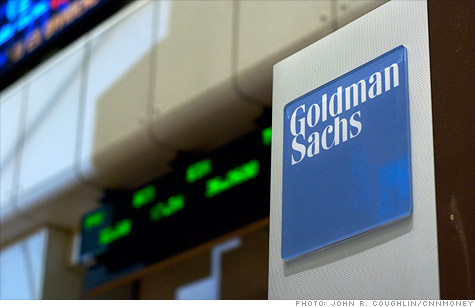 A resigning Goldman Sachs exec says the firm's environment is "toxic" in a scathing op-ed piece in The New York Times.
NEW YORK (CNNMoney) -- A Goldman Sachs executive has resigned in a very public manner -- calling the firm "toxic" and disrespectful of its clients in a scathing op-ed piece published in Wednesday's New York Times.
"I can honestly say that the environment now is as toxic and destructive as I have ever seen it," wrote Greg Smith on his "last day at Goldman Sachs," capping 12 years with Wall Street's gilded firm.
In a memo sent to employees, Goldman CEO Lloyd Blankfein and Chief Operating Officer Gary Cohn said they were "disappointed to read the assertions made by this individual that do not reflect our values."
Smith -- who resigned as a Goldman executive director and head of U.S. equity derivatives business in Europe, the Middle East and Africa -- detailed the disintegration of the company's culture during his time there.
Smith's main gripe is that the firm cares more about making money from its clients than making it for them.
"It makes me ill how callously people talk about ripping their clients off," he wrote. "Over the last 12 months I have seen five different managing directors refer to their own clients as 'muppets,' sometimes over internal e-mail."
Goldman (GS, Fortune 500) spokesman Michael Duvally released a statement that contradicted Smith's diatribe.
"We disagree with the views expressed, which we don't think reflect the way we run our business," said Duvally. "In our view, we will only be successful if our clients are successful. This fundamental truth lies at the heart of how we conduct ourselves."
In their memo to employees, Blankfein and Cohn said Smith's writing "does not and should not represent our firm of more than 30,000 people."

"We are far from perfect, but where the firm has seen a problem, we've responded to it seriously and substantively," the executives said.

They noted that employees have a mechanism to anonymously express concerns, but said they were "not aware that the writer of the opinion piece expressed misgivings through this avenue."

"[I]f an individual expresses issues, we examine them carefully, and we will be doing so in this case," the memo said.

A source at the firm said Wednesday that Goldman had reached out to Smith.

"When people resign, you usually have an exit interview," the source said. "We would like to talk to him to flesh out some of the things he said. Then, we figure out what the next steps are."

In his op-ed, Smith expressed disappointment with the firm for failing to correct its cultural decline, even after a series of high-profile scandals cast the company in a negative light.
"Even after the S.E.C., Fabulous Fab, Abacus, God's work, Carl Levin, Vampire Squids?" he wrote. "No humility? I mean, come on. Integrity? It is eroding."
Smith was referring to the Securities and Exchange Commission's investigation against the firm for its role in underwriting subprime mortgages in 2006, which helped to unravel the housing market.
"Fabulous Fab" is the self-applied moniker of Goldman trader Fabrice Tourre, who was accused by the SEC of selling Abacus, a portfolio of real estate investments that hedge fund Paulson & Co. played a role in selecting, with an interest in its failure. Tourre declared himself "Fabulous Fab" in an internal e-mail, which emerged during a federal investigation.
Sen. Carl Levin, a Michigan Democrat, led the Congressional investigation into Abacus.
"God's work" is Blankfein's self-described job description. "Vampire squid" is the famously unflattering nickname applied to the company by Rolling Stone writer Matt Taibbi.
Going forward, Smith stated bluntly than the 143-year old firm won't last unless it corrects the current state of its corporate culture.
"It astounds me how little senior management doesn't get a basic truth: If clients don't trust you they will eventually stop doing business with you," he wrote. "It doesn't matter how smart you are."

--CNN's Christine Romans and CNNMoney's James O'Toole contributed to this report.