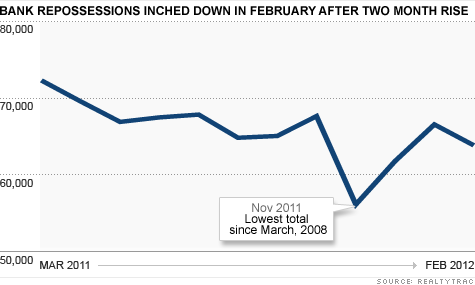 NEW YORK (CNNMoney) -- The number of homes entering foreclosure dropped in February, but a new up-turn may soon be on its way.
The reason? The $26 billion settlement between 5 major banks and state attorneys general over past foreclosure practices.
The agreement clarifies how foreclosures must be handled, and that is expected to enable banks to speed up their processing, putting many new delinquent homeowners into the foreclosure process.
Cases could go forward after sitting in limbo for months -- even years -- with their delinquent owners squatting on the properties.
The banks involved are Bank of America, (BAC, Fortune 500) JPMorgan Chase (JPM, Fortune 500), Citibank (C, Fortune 500), Wells Fargo (WFC, Fortune 500) and Ally Financial.
"The pig is starting to move through the python," said Daren Blomquist, director of marketing for RealtyTrac, which released its foreclosure report for February on Thursday.
Though filings for the month were down 8%, there were indications that the foreclosure pipeline was beginning to unclog.
Foreclosures had dropped much more in January -- 19%. And 21 states posted increases in filings in February, the most since November 2010. Plus, half of the nation's 20 largest metro areas reported increases as well, led by Tampa, Fla. (up 64%) and Miami (53%).
"February's numbers point to a gradually rising foreclosure tide as some of the barriers that have been holding back foreclosures are removed," said Brandon Moore, CEO of RealtyTrac.
That Florida cities led the charge is a telling sign: The state was one of the states hardest hit by foreclosures, and it was also most affected when banks slowed the foreclosure process after the robo-signing scandal in fall 2010.
Now, however, the banks appear to have resumed pressing the cases.
"They have already adjusted their foreclosure practices to fit the terms of the settlement," said Blomquist. "We expect that to continue as [the settlement] gets finalized."
That should also mean a climb in the number of homes repossessed, the final step in the foreclosure process and the biggest personal tragedy for homeowners. In February, repossessions declined 4% to 63,834.
Nevada accumulated the highest rate of total foreclosure filings, including repossessions, as well as notices of default and auction notices. One of every 278 households in Nevada received a foreclosure filing.
California was second (one for every 283 households), Arizona third (one in 312) and Georgia fourth (one in 331).
Riverside/San Bernardino was the hardest hit of the 20 largest metro areas with a filing for every 166 households. Other hot spots included Atlanta (one in 244 households), Phoenix (one in 259) and Miami (one in 264).