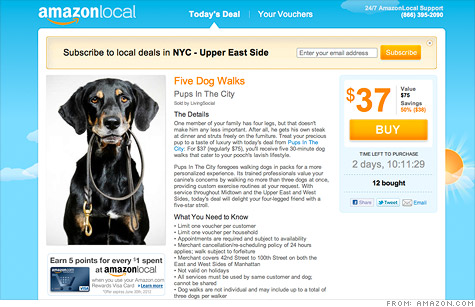 Amazon launched its Groupon competitor, AmazonLocal, nine months ago.
NEW YORK (CNNMoney) -- Amazon will sell $10 gift cards to its site for half the price on Tuesday, through its daily deals site AmazonLocal.
It's a bid to boost customer interest in the nine-month-old AmazonLocal service, which is one of several deal sites that sprang up after Groupon's (GRPN) success.
"Some folks, even if they're Amazon customers, don't know about us yet," says AmazonLocal vice president Mike George. "This is going to draw a whole bunch of people to check us out."
Though Amazon (AMZN, Fortune 500) will of course lose money on the deal, the company is betting the hype will be worth it.
"It's hard for me to imagine anyone who wouldn't be interested in the deal. Amazon sells everything from Brazilian keratin treatments to snowblowers," George says.
Amazon ran a similar deal in January 2011 on LivingSocial, one month after it invested $175 million in the daily deals site. LivingSocial sold nearly 1.4 million of the $10-for-$20 gift cards -- the equivalent of 80 per second -- in the U.S.
George won't reveal how many gift cards Amazon is offering on Tuesday, or any stats about how AmazonLocal has performed so far. The service has expanded "quickly," he says, to 90 cities in 26 states and Washington, D.C.
AmazonLocal's relationships with Amazon.com, LivingSocial and even the Kindle e-reader make its business model different from other deal sites.
AmazonLocal has its own sales team that negotiates deals, but both Amazon.com and LivingSocial supply some of the offers. Amazon's ad-supported Kindles also display messages hawking AmazonLocal deals.
Still, the daily deals market is heavily saturated. Hundreds of startups are trying capitalize on the craze, while big tech companies like Google (GOOG, Fortune 500) are pushing their own coupon services.
Not all would-be contenders succeed. Last year, Facebook tested "Facebook Deals" in five cities. It pulled the plug on the experiment in August after only four months.
That same month, reviews site Yelp (YELP) laid off half of its Deals staff a year after launching the service. Unlike Facebook's offering, though, Yelp Deals is still running.