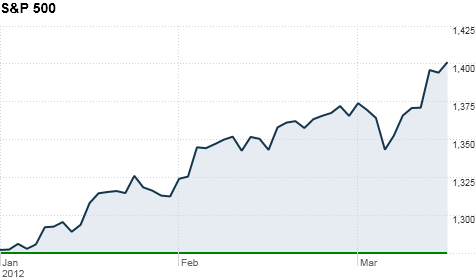 Click for more market data.
NEW YORK (CNNMoney) -- U.S. stocks have been on a tear so far this year, but the average American investor still isn't buying it.
After last year's wild ride, most so-called retail investors have been pulling money out of the stock market and plowing it into bonds.
That turned out to be a pretty smart trade last year. U.S. Treasurys returned an estimated 10% in 2011, while stocks ended the year flat.
But the trend could start moving in the other direction as the economy finds its legs and markets become less volatile.
The S&P 500 rose to a four-year high this week and has gained over 9% so far this year.
Meanwhile, prices for Treasury bonds have tumbled, sending the yield on the 10-year note up to its highest level since October.
Gold, another star performer last year, has also underperformed stocks this year.
At the same time, the market has been a lot less volatile, which could entice some retail investors to start buying again. The VIX, known as Wall Street's fear gauge, fell to a five-year low this week.
Yet the U.S. investing public remains deeply skeptical of stocks after being burned twice in the last decade, first by the collapse of the dotcom bubble and then the 2008 financial meltdown.
And with the memory of last year's gut wrenching moves still fresh on investors' minds, it could take a while for the fear to subside and greed to kick in.
"Retail investors are coming from an incredibly depressed mindset," said Alec Young, equity strategist at Standard & Poor's. "The only thing that will change that is a prolonged period of excellent performance in the equity market."
While he said this process has already begun, Young pointed out that money continues to flow out of equity-based funds that cater to retail investors.
According to the Investment Company Institute's most recent statistics, which run through March 7, investors pulled only $126 million out of mutual funds that invest in global stocks.
In contrast, a total of $10.7 billion flowed into mutual funds that invest in bonds during the week ended March 7, according to ICI, which focuses solely on mutual fund flows.
"Retail investors are becoming cautiously more comfortable with stocks," said Kate Warne, chief investment strategist with Edward Jones.
In fact, after 10 weeks of outflows, February had three weeks of inflows, before investors pulled back, according to ICI data. That suggests the tide may be starting to turn, even though investors are still currently favoring safety.
"The fundamentals are good and increased confidence suggests that people will be putting more money in the market," she said. "That doesn't mean there won't be pullbacks, but it's in line with our expectation that the direction of the market is higher."
That goes against the conventional wisdom on Wall Street, which says when you see retail investors returning, the market has peaked.
"If you believe retail investors are the fools in the market, then yes: it's about time for them to jump back in," joked Cameron Brandt, senior global market analyst at EPFR Global, a Cambridge, Mass.-based firm that tracks fund flows.
Brandt doesn't see that happening anytime soon, however.
According to EPFR, which tracks flows into and out of a variety of funds, retail investors pulled some $540 million out of U.S. equity-based funds during the week ended March 7. That was a slower pace than the prior two weeks, which showed outflows of $1.3 billion and $2.1 billion, respectively.
"The pace of the retreat has certainly slowed in recent weeks," said Brandt, adding that there have been no net inflows by retail investors into equity funds tracked by EPFR since the first week of July.
In addition to the high degree of skepticism among retail investors, Brandt points out that there are more long-term forces behind the exodus from stocks.
As the "baby boom" generation nears retirement age, much of the nation's wealth is being shifted out of stocks and into bonds as part of the traditional approach to retirement planning.
Still, there is reason to believe that retail investors will eventually return to the stock market, given the lack of other options and depending on the sustainability of the current rally.
"The case for them jumping back in is that it's very hard to get a decent return on your investment right now," he said. "If the market stays up around this level long enough, I think it will gradually draw retail investors back in."