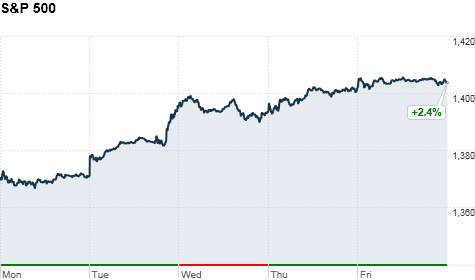 Click chart for more markets data.
NEW YORK (CNNMoney) -- Housing will take center stage this week as several economic reports on housing prices, sales and construction are due out.
Any signs that the real estate market is rebounding could keep the stock market rally going.
"We're going to see enough housing data next week that we'll be able to corroborate or refute reports showing that the real estate market is rebounding," said Dan Greenhaus, chief global strategist at BTIG.
Reports on housing starts, building permits and February's new and existing home sales will all be released this week.
Robert Tipp, chief investment strategist at Prudential Fixed Income Management, said he'll be watching to see whether more existing home sales are from people actually wanting to sell or because they are being forced to leave their homes due to foreclosures.
"There's a real potential next week to either reinforce optimism about the economy or call it into question," said Tipp.
On a relatively light week for economic data, weekly initial jobless claims will take on added import. The number of Americans filing for unemployment has been declining in 2012, and investors will be watching to see if that trajectory will continue.
The improvement in the job market has been one of the sources of fuel for the 2012 stock market rally, which continued last week.
Despite the mixed performance Friday, the major indexes all posted gains of more than 2% for the week. Several upbeat economic reports, signs of strength in the banking sector following the Federal Reserve's stress tests, and rising hopes for a lasting solution to the debt crisis in Europe helped keep the 2012 rally going.
This week, several well-known companies will report results that should provide different glimpses of the health of various sectors. Tiffany & Co (TIF) will release results before the bell Tuesday, offering a window on whether the high-end consumer is back.
Tech giant Oracle (ORCL, Fortune 500) reports after the close Tuesday. On Thursday, discount retailer Dollar General (DG, Fortune 500) and FedEx (FDX, Fortune 500) report before the bell, and Nike (NKE, Fortune 500) reports after the close.
The bond market will also be in focus, after a sharp sell-off this week. Investors gravitated towards more risky assets, causing the yield on the 10-year U.S. Treasury notes to rise to 2.3%, up from about 2% at the beginning of the week.