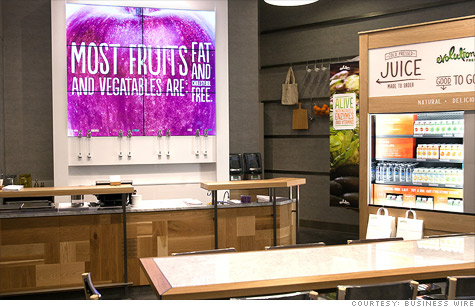 Starbucks' first juice bar uses its new Evolution Fresh brand.
NEW YORK (CNNMoney) -- Starbucks moved beyond its coffee roots Monday, opening its first juice bar under its newest brand, Evolution Fresh.
The juice bar is in Bellevue, Washington, not far from its Seattle home base. While the company operates about 17,000 coffee shops in 50 countries, this is its first non-coffee retail location.
The company bought the Evolution Fresh juice brand for $30 million in November, and until now its line of juices has only been available in grocery stores. Starbucks plans to roll out Evolution Fresh juices to its coffee shops later this year.
Starbucks (SBUX, Fortune 500) was founded in 1971, but it wasn't until after Chairman and CEO Howard Schultz bought the company in 1987 that it started to expand the idea of gourmet coffee shops on a massive scale. In addition to Starbucks it also operates the Seattle's Best chain, which it acquired in 2003.
Evolution Fresh juices are made using a technique called high pressure processing, which the company said retains more of the flavors, vitamins and nutrients of raw fruits and vegetables.
The store is aimed at health-conscious consumers, offering wraps, salads and soups, as well as vegetarian and vegan offerings.
Starbucks did not give a target for future store plans in Monday's announcement, but it said the move into branded stores will revolutionize the $3.4 billion and growing cold-crafted juice category. The leader in the field today is smoothie maker Jamba Juice (JMBA), which has 750 locations in more than 20 states.