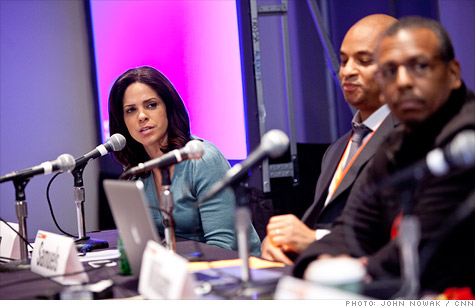 CNN's Soledad O'Brien (left) hosted an SXSW panel discussion on the aftermath of CNN's Black in America 4 documentary.
NEW YORK (CNNMoney) -- Silicon Valley's startup field is dominated by young, mostly white men from a handful of elite universities. NewMe, an accelerator program for minority-led ventures, aims to shake up the scene.
Three months after CNN's Black in America 4 aired, chronicling the stories of NewMe's first class, several of the documentary's participants reconvened at last week's South by Southwest (SXSW) gathering in Austin. In panel discussions and informal chats, they tackled the question: Has anything changed?
"I think the most important thing [the documentary] did is that it started a conversation that did not exist. That's huge," said Hank Williams, who used his time at NewMe to work on Kloudco, a cloud-based data management service.
"I don't know how much we impacted Silicon Valley, but it's starting a larger discussion around the nation," said Gokit founder Hajj Flemings. "There are a lot of people looking to make career shifts."
After Flemings finished the two-month accelerator program, he moved back to Detroit to continue working on Gokit, which helps people create professional online profiles. His venture soft-launched at SXSW and opened sign-ups for its public beta.
NewMe is currently in its second run, this time backed by sponsors including Google (GOOG, Fortune 500), Hewlett-Packard (HPQ, Fortune 500) and venture capital powerhouse Andreessen Horowitz. The current cohort of seven entrepreneurs were selected from more than 300 applicants.
Participant Amanda McClure, from Houston, says it's been revealing to get an inside view of how Silicon Valley operates. For example: Male venture capitalists -- and they're overwhelming male -- are used to a certain style of pitching.
"We don't have the testosterone levels men do," McClure says of her fellow female entrepreneurs. "Some people go in aggressively. We tend to want to have a group conversation instead of a pitch. It's a shift you have to adapt to."
Having a conversation on any of these issues is challenging, Flemings acknowledged.
"Any time that you deal with a topic that's a polarizing topic -- race, politics and religion -- you began to get people that are on one side or the other and never in the middle," he said. "We have to be very careful -- how do you respond to that?"
Flemings sees the tech industry's scant diversity as a two-part challenge. On one end, there's "the pipeline problem": the oft-discussed shortage of women and minorities with technical training such as computer-science degrees.
"We have to push the next generation, people in elementary and high school, to start considering tech education," he said. "How do we develop a network that will give them access into this community? There's some things we have to do on our end."
On the flip side, Silicon Valley's power networks could do more to broaden their reach. That's starting to happen: NewMe founder Wayne Sutton says the group's mentors have significantly deepened their involvement this time around.
"The pipeline issue is a real problem, but it doesn't explain the numbers," said Williams of Kloudco.
He offered a telling example: "I personally know pretty much every black venture capitalist. There are essentially zero. Statistically, it's zero. That's not a pipeline issue."