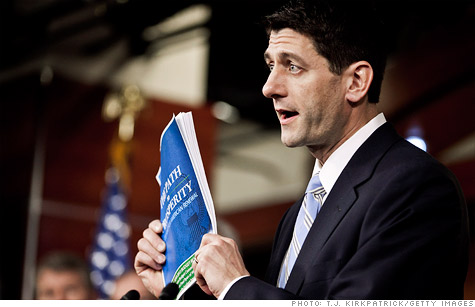 House Budget Chairman Paul Ryan wants to turn Medicaid into a block grant.
NEW YORK (CNNMoney) -- House Republicans want to overhaul the nation's safety net by turning Medicaid and food stamps into block grants and making recipients work for certain benefits.
This would reduce the financial burden on the federal government, allow the states greater flexibility to adjust the programs and give the poor a more solid ladder to rise to the middle class, they say.
"We don't want to turn the safety net into a hammock that lulls able-bodied people into lives of dependency and complacency, that drains them of their will and their incentive to make the most of their lives," said House Budget Chairman Paul Ryan as he unveiled the plan Tuesday.
The plan, which is very similar to Ryan's budget from last year, met with criticism from both sides of the political spectrum. Conservatives argue it doesn't do enough to curtail federal spending or reform welfare, while left-leaning groups say it will gut the system.
Reforming the safety net
As they seek to rein in the federal deficit, lawmakers have been wrestling with ways to shrink the safety net without casting the poor into the street.
The Great Recession caused many needs-based programs to mushroom, as prolonged unemployment prompted many jobless Americans to turn to the government for help. More than a third of Americans lived in households receiving government assistance in mid-2010.
Under the Ryan budget, the federal government would give states a set amount of funds to cover their Medicaid recipients in the form of a block grant. States would also be given more flexibility to tailor the program's requirements and enrollment criteria.
His plan says it would curtail Medicaid spending by $810 billion over 10 years. In 2022, federal Medicaid funding would be about 34 percent less than states would receive under current law, according to an analysis by the Center on Budget and Policy Priorities.
Currently, federal spending on Medicaid is open-ended. The federal government pays an average of 57 cents of every dollar spent on health care for the poor. The recession prompted a massive increase in the cost of Medicaid and its price tag is expected to climb further. Federal spending on the program is expected to soar from $276 billion in 2013 to nearly $622 billion a decade later.
Food stamps, known officially as the Supplemental Nutritional Assistance Program, would also become a block grant program starting in 2016. Recipients would be required to work or enroll in a job training program. A time limit would also be phased in.
These measures would curtail further growth in the program, which expanded from 28.2 million recipients in 2008 to 46.6 million today, Ryan said. The way the food stamps program is set up today, states are given the incentive to increase the rolls, he said.
Ryan also has plans for other low-income safety net programs, though he didn't detail them in his budget other than to say the federal government should "begin devolving" them to the states. Last year, he specified that recipients of housing assistance should also have to work, which he mentioned in his speech Tuesday.
A backlash on both sides
"This document doesn't really control the growth of welfare spending or reform the safety net," said Robert Rector, senior research fellow in poverty programs at the conservative Heritage Foundation.
Rector, who thinks able-bodied adults should work in exchange for receiving benefits, said the nation can't afford the safety net as it's constructed now.
Advocates for the poor, meanwhile, fear that the Ryan budget would really slash the safety net, not strengthen it.
The idea that the states could administer either Medicaid or food stamps more efficiently is a fallacy, said Elizabeth Lower-Basch, senior policy analyst at CLASP. It would just force states to make "ugly decisions," such as restricting enrollment or instituting co-pays.
Ryan's budget is light on specific savings from these steps, but some advocates estimate that proposal would slash 269 billion meals for low-income recipients and cut nearly 228,000 jobs over a decade.
An Urban Institute analysis of Ryan's budget proposal from last year found block grants would lead states to drop between 14 million and 27 million people from Medicaid by 2021 and cut reimbursements to health care providers by 31 percent.
Also, advocates point out that many beneficiaries of federal aid already hold down jobs. Three times as many households receiving food stamps have income from work than income from welfare, said Melissa Boteach, an anti-poverty specialist with the Center for American Progress Action Fund, a left-leaning group.
"He's painting a picture of the safety net that's at odds with reality," Boteach said.