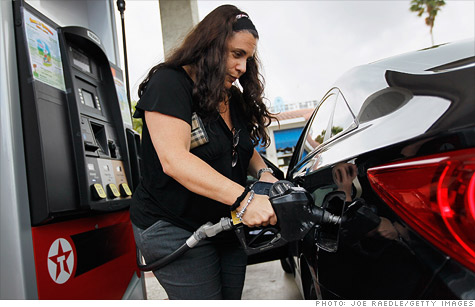 High gas prices don't hurt as much as they used to, but pain at the pump is just one reason why they are getting so much attention.
NEW YORK (CNNMoney) -- Gas prices are once again dominating the national debate.
But despite rhetoric, high gas prices aren't hurting as much as they used to.
In 1981, when oil prices spiked following the Iranian Revolution, gasoline represented nearly 5% of the nation's spending, according to the Bureau of Economic Analysis. In 2011, only 3.7% of spending went to gas, even though prices averaged at their highest level ever that year.
In addition to spending less, we're driving more than ever -- 90% more than compared to the early '80s, according to the Federal Highway Administration.
This isn't to say high gas prices don't hurt -- they do, especially for people living paycheck-to-paycheck or those that drive a lot.
But for the average American household, which has an income of over $62,000 a year, the increase in gas prices represents a relatively small portion of total spending.
For example, in 2008 gas prices were all over the news when they hit their all time high. But in 2010 when prices fell people barely mentioned them.
Yet spending on gas totaled only $12 more per week in 2008 than in 2010, according to numbers provided by the Bureau of Labor Statistics.
That $12 per week is roughly the same amount that BLS figures show people spent on "pets, toys, hobbies and playground equipment."
"The incremental expenditure is not that much," said Akshay Rao, a professor of marketing at the University of Minnesota's Carlson School of Management who has studied gas prices. "But that's not how people think about it."
Moreover, today's high prices don't appear to be having a big drag on the economy.
Retail spending continues to rise, even stripping out gasoline. It was up nearly 1% in February and 1% in January, not including the big jump in gas prices.
"It seems like people are still getting out there and opening up their pocketbooks," said Beth Ann Bovino, deputy chief economist at Standard and Poor's.
Bovino thinks prices would have to reach between $4.50 and $5 a gallon to really see an impact in spending.
Part of the reason Americans are coping with higher gas prices is that oil makes up a smaller percentage of overall energy use, she said.
Oil made up 48% of the nation's energy consumption in 1971, S&P noted in a recent report. Now, thanks to a shift to cheaper natural gas and coal, oil accounts for just 40%.
So why are rising oil and gas prices receiving so much attention?
Rao, the marketing professor, identifies three reasons:
No one likes to buy gas: Gasoline is a boring commodity, not a flashy new iPhone or pair of jeans.
"There's no joy in purchasing gas," said Rao. "People look at it as a tax on driving."
Yet, it's one of the few singular products people are regularly forced to buy.
Prices are seen everywhere: With gasoline prices posted in giant numbers at gas stations that seem to occupy every intersection, people are exposed to them more than perhaps any other product.
Not only are they exposed to them, but prices change so fast and for reasons that aren't always clear.
"Why is it $3.49 at one station and $3.69 at another," said Rao.
People are encouraged to get mad: The media seizes upon the rising price because it makes a good headline.
Political pollsters may also use it to bait people.
"Some polling questions seem designed to get people to blame the current president," Rao said.
And that, of course, is good news for the opposing political party, which beats the gas price drum ad infinitum.
Yet are people really that mad about it?
"There's certainly discontent, but I'm not convinced there is real rage," said Rao.
After all, most analysts agree: The basic reason why prices have moved higher over the last few years is that the world is using ever more of this product and we have to go to greater lengths to find new supplies.
That's expensive. And dangerous -- people actually die in this quest to find new supplies. Many Americans may have at least a vague understanding of that.
"But everybody is telling them they should be mad, so they say 'OK,'" said Rao.