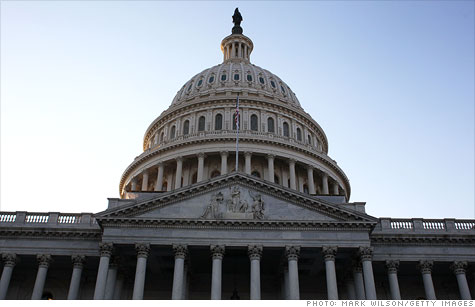 The Senate will send to President Obama on Thursday a bill banning insider trading on Capitol Hill.
WASHINGTON (CNNMoney) -- The Senate on Thursday overwhelmingly passed a bill that makes it illegal for lawmakers and their staffs to make Wall Street trades based on insider information.
The bipartisan measure, which already passed the House, would immediately go to President Obama, who is expected to sign it. Obama called for the law during his State of the Union address in January.
While insider trading is already illegal, there's some question as to whether current laws that focus on Wall Street apply to Capitol Hill, where lawmakers and staff are encouraged to discuss pending legislation with firms that might be impacted.
The bill would clarify that lawmakers and staff can't use special information about pending or potential federal government activity to trade stocks.
However, Congress passed a weaker bill than some have advocated.
A Senate bill passed in February would have also required those research firms that gather intelligence to help predict Washington policy for Wall Street to register and disclose fees in the same way lobbyists do. The Senate bill also would have also more clearly defined public corruption, giving the Department of Justice stronger tools to go after bribery in Congress.
On Tuesday, Senate Majority Leader Harry Reid said he didn't have enough support to move quickly on the the registry or the strengthened public corruption laws, a move that angered Iowa Republican Charles Grassley.
"It's another example of Wall Street being heard in Washington and the common person in the United States not having its will expressed," Grassley said. "If you seek information to trade stocks, Congress, the executive branch and the American people ought to know how you are."
The congressional ban on insider training was some six years in the making. But momentum came from a CBS "60 Minutes" piece last year, which suggested a few lawmakers had made money from inside political knowledge from the financial crisis.
After that report, the Office of Congressional Ethics started looking at Rep. Spencer Bachus, the chairman of the House Financial Services Committee, who acknowledged last month he is under investigation for possible violations of insider trading laws. The Alabama Republican maintains that he will be cleared.
The U.S. Securities and Exchange Commission polices illegal insider trading. The current ban prevents the buying and selling of securities when trades are based on nonpublic information gleaned through a breach of a corporate officer's responsibility to protect shareholders' interests, known as "fiduciary duty."
Congress fell into a gray area, because lawmakers and staffers are expressly allowed and encouraged to discuss pending legislation or the political process that could impact private firms or Wall Street.
As it stands now, lawmakers don't really have a fiduciary duty, because they viewed themselves as in the "public sphere," said Craig Holman, lobbyist for the watchdog group Public Citizen.
"Insider trading has never been applied to Congress or staffers," Holman said. "This makes it very specific: Yes, it's illegal to trade on information gleaned from the halls of Congress."