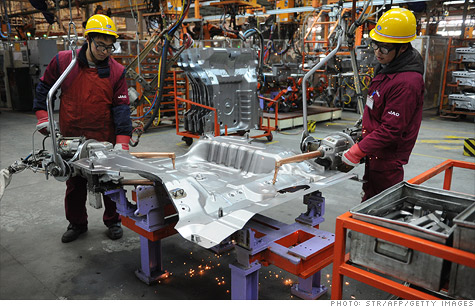 Chinese manufacturing continues to slow down, says HSBC.
NEW YORK (CNNMoney) -- Chinese manufacturing weakened in March, with an initial reading of a key index hitting a four-month low.
The weakness in the world's second-largest economy put a damper on worldwide stock markets concerned about global growth.
The purchasing managers' index that tracks Chinese manufacturing fell to 48.1 from 49.6 the prior month, according to global banking concern HSBC.
"Weakening domestic demand continued to weigh on growth," said the report, written by HSBC China economist Xiaoping Ma and chief economist for greater China Hongbin Qu. "With new export orders sluggish and domestic demand still softening, China's slowdown has yet to finish."
Any reading below the benchmark of 50 indicates contraction, while anything above 50 means growth.
"It's a bit of a disappointing reading, no doubt about it," said HSBC senior economist Fred Neumann in an interview with CNN International. "The market had expected a bit of an improvement [and] there are hopes that the Chinese economy will re-accelerate."
"This number suggests that re-acceleration is coming a bit later than the market had expected," Neumann added.
The weakness in factory orders is affecting employment, which has slipped to its lowest point in three years, said the report.
"This calls for further easing to come from Beijing," the report said. But it also noted that "the sluggishness of new orders suggests that domestic demand has yet to respond fully to Beijing's recent loosening measures."
Stocks in Europe were down after the report, and U.S. stock futures indicated a weaker opening. In Asia, Shanghai stocks ended lower, but Hong Kong managed a modest gain and Tokyo's Nikkei index rose after Japan reported a surprising trade surplus.
A revised reading from HSBC and the Chinese government's official purchasing managers' index will be released sometime around April 1.