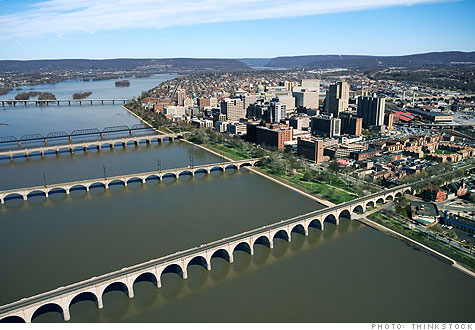 An auction of artifacts could raise as much as $12 million for the cash-strapped Pennsylvania capital.
NEW YORK (CNNMoney) -- It's unlikely that a Revolutionary War rifle will save Harrisburg, Pa., but it could help.
The financially troubled capital of Pennsylvania is hosting an auction of artifacts this summer in hopes of raising enough money to close the gap between the city's revenue and operating costs.
The loot is the end result of a failed plan to open several new museums in the city after it made substantial acquisitions of art and artifacts.
Former Mayor Stephen Reed, who served from 1981 to 2009, hoped new museums would spur tourism and economic growth in this town of just under 50,000 residents. But while one Civil War museum was built, institutes devoted to sports history, African-American history and the Wild West that were planned never got off the ground.
When current Mayor Linda Thompson took office in 2010, she inherited about 8,000 historical artifacts stored in two separate warehouses in Harrisburg by the previous administration and is now offering them all for sale.
The items range from African-American sculptures to rifles from the Revolutionary War as well as an extensive collection of Western memorabilia, including a Jesse James "Wanted, dead or alive" poster estimated at $4,000 to $6,000, and gunfighter Doc Holliday's mother-of-pearl pistol estimated at $12,000 to $16,000.
"The mayor is looking for maximum return on the liquidation of those artifacts," said Thompson's spokesman Robert Philbin.
The city tried this once before, during a budget crisis in 2007, but that auction of artifacts only raised a little more than $1 million. "It was a disappointing result at that time," Philbin said.
This time, Harrisburg is only officially counting on getting $500,000 from an auction, according to the city budget, but other estimates run much higher. If successful, it could rack up $6 million to $12 million altogether, says Arlan Ettinger, president of Guernsey's, which is conducting the auction.
"It's a broad range but from first inspection, that's the sense that we had," Ettinger said.
If the city gets $6 million or more for the items, Philbin added, "it would have a substantial impact" on cutting the city's debt.
Guernsey's has started the process of identifying and cataloging artifacts left in the collection and will conduct an appraisal in the weeks ahead. The auction will be held in Harrisburg in mid-July over the course of eight days. About 5,000 visitors are expected to come to Harrisburg for the event, but collectors can also bid online.
"Whatever they can take from this is better than nothing, but it's not a long-term solution," cautioned Steven Malanga, senior fellow at the Manhattan Institute and author of "Shakedown: The Continuing Conspiracy Against the American Taxpayer."
The root of Harrisburg's financial crisis dates back 10 years, when the city decided to upgrade a trash incinerator. Harrisburg was counting on revenue from the project to cover the cost of financing it. Instead, it has left the city with $310 million in debt.
Now the city must pay off the incinerator debt as well as pay other debt down to where the payments are a manageable part of the budget, Malanga explained. "[The auction] is a temporary injection into the budget but it certainly doesn't solve their problems," he said.
Harrisburg tried to file for Chapter 9 bankruptcy protection last year but the filing was dismissed by a federal bankruptcy judge and was later rejected again under appeal.
The city is now operating under a court appointed receiver, David Unkovic. Unkovic's fiscal recovery plan -- also aimed at alleviating some of the city's long-term debt -- includes privatizing some city services, implementing a hiring freeze and increasing parking ticket fees, among other measures.