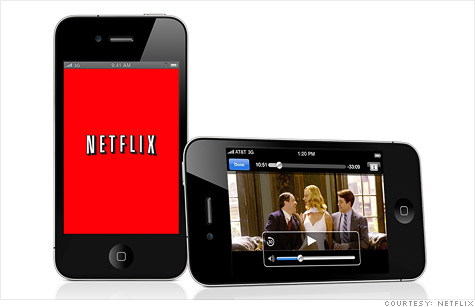 Monthly streaming subscription services like Netflix account for 94% of all paid online movie consumption.
NEW YORK (CNNMoney) -- U.S. movie buffs will pay to watch more movies online in 2012 than they will on physical video formats like DVD. That historic first marks a tipping point for Hollywood -- and its business model.
The stat comes a report that research firm IHS iSuppli released late Thursday. Online views, or paid "transactions," will hit 3.4 billion this year, compared with 2.4 billion for physical copies, according to IHS's forecast.
It's a big change from the figures IHS clocked last year. In 2011, physical videos easily stayed on top with 2.6 billion views, compared to 1.4 billion for online.
That's a 135% year-over-year increase for online video. IHS expects the trend to accelerate.
"2012 will be the final nail to the coffin on the old idea that consumers won't accept premium content distribution over the Internet," Dan Cryan, IHS's senior principal analyst of broadband and digital media, said in the report.
Streaming subscription services from Netflix (NFLX), Amazon (AMZN, Fortune 500) Prime and others helped propel online video to the No. 1 spot, accounting for 94% of all paid online movie consumption.
But it's not all bad news for good ol' physical videos. IHS says those formats will command 4.3 billion hours of viewing time this year, well above the 3.2 billion hours predicted for online videos.
And from a total revenue standpoint, discs steamroll their online counterparts. Physical formats will bring in $11.1 billion in revenue this year, while online views will generate just $1.7 billion.
That's because consumers will pay an average of just 51 cents for every movie watched online, IHS says, compared to $4.72 for physical videos.
IHS predicts that gap will persist for several years. By 2016, online will comprise 17% percent of video revenue, physical discs will represent 75%, and pay-TV video on demand will snag the remaining 8%, it projects.