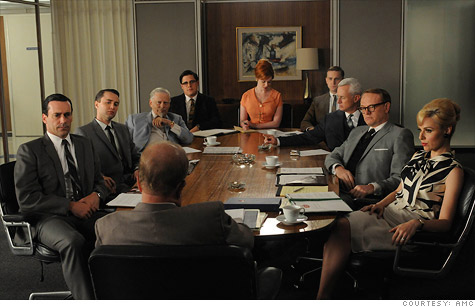 Don Draper fans rejoice! "Mad Men" finally returns for its fifth season on March 25. But is the good news already priced into shares of AMC Networks? Does Roger Sterling like vodka martinis?
NEW YORK (CNNMoney) -- Don (or shall I say Dick?), Peggy, Roger, Pete, Joan and the rest of the Sterling Cooper Draper Pryce gang return to television Sunday after a painfully long hiatus.
But is the season five premiere of "Mad Men" a legitimate reason to invest in shares of cable channel AMC Networks (AMCX)?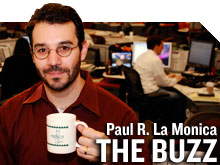 Probably not. AMC, which also airs critical favorites "Breaking Bad," "The Killing" and "The Walking Dead, is a fairly pricey stock. Shares are up nearly 20% already this year.
As a result, the stock now trades at 20 times 2012 earnings estimates -- a decent premium to other publicly traded cable networks.
Scripps Networks Interactive (SNI), the parent company of Food Network and HGTV, is valued at 15.5 times 2012 earnings projections. Discovery Communications (DISCA), which owns Discovery, TLC and Animal Planet, is valued at 17 times this year's profit forecasts.
In a recent research note, Maxim Group media analyst John Tinker wrote that while he is "impressed by...the continued revenue growth and investments in original programming," he has a "hold" rating on the stock because of the valuation.
Tinker also noted that investors should be wary of the company's relatively high net debt load of $2.1 billion.
Yes, AMC's profits are expected to rise nearly 26% this year. But AMC may benefit from the proverbial "easy comparisons" this year.
The fourth season of "Mad Men" ended in October 2010. The fifth season should have aired in the summer of 2011 but was delayed due to a dispute between AMC and the show's creator, Matt Weiner.
So AMC should be able to generate a decent chunk of ad revenue from "Mad Men" this year -- revenue that was non-existent in 2011.
Nonetheless, it is interesting that AMC, which was spun-off from Long Island cable company Cablevision (CVC, Fortune 500) last summer, has far outpeformed its former parent this year. Cablevision's stock is up just 3% year-do-date.
AMC isn't the only spawn of Cablevision that's having a strong year. Madison Square Garden (MSG), which began trading separately from Cablevision in early 2010, is up 16.5% this year. MSG has received a nice boost in part because the media fervor surrounding point guard Jeremy Lin. Ratings are up at the network due to Linsanity.
In addition, there is some notable so-called smart money backing AMC. The company's largest institutional investor is Paulson & Co., the hedge fund run by John Paulson.
Sure, it's easy to be critical of Paulson. He took his lumps in 2011 with some ill-timed bets on bank stocks. But his fortunes may be turning around this year. Insurer Hartford Financial Services (HIG, Fortune 500) bowed to pressure from Paulson this week and agreed to exit the annuity business. The stock rose nearly 1.5% on the news and is up more than 30% this year.
Mario Gabelli's GAMCO Investors as well as mutual fund firms Wellington and Vanguard are also big AMC shareholders.
But there's another way to cash in on "Mad Men" mania that might make more sense. You could invest in shares of the company that produces the show, Lions Gate (LGF). In fact, Weiner and several Mad Men cast members rang the opening bell at the NYSE this week with Lions Gate executives.
Lions Gate has been an even hotter stock than AMC this year, up 70% thanks largely to hype about "The Hunger Games" movie that was released Friday. But even after that surge, Lions Gate is still a cheaper stock than AMC. It trades for about 13 times estimates for its next fiscal year, which ends in March 2013.
So if your weekend plans involve seeing Katniss fight to the death against fellow Panem teens followed by a nice glass of rye Sunday night while watching "Mad Men", just remember that only Lions Gate allows you to benefit from both of those pop culture phenoms.
Best of StockTwits and reader comments of the week. About that housing recovery? Builder KB Home (KBH) had a terrible quarter.
dschorrnyc: $KBH seeing increased cancellations
abubnic: $KBH reports Q1 homes delivered up 21% to 1,150. Net orders totaled 1,197 in the first quarter of 2012, down 8% from a year ago.
PAAResearch: Count me among the people who didn't see an avg. decline of 30% YOY in orders for$KBH coming in the southwest and westcoast #homebuilders
This is not good news. Other builder stocks were dipping as well. As I pointed out in my "fake housing recovery" column earlier this week, the builders may be just merely bouncing along the bottom.
And some non-builder stocks (retailers in particular) that have helped lift the widely watched (and somewhat erroneously named) SPDR S&P Homebuilders ETF (XHB) this year may be doing well despite the housing malaise.
Finally, there were two pop culture gems from CNN colleagues worthy of reader comment of the week.
On Thursday, I pointed out that the surname of the retiring CEO of McDonald's (MCD, Fortune 500) is the same as the principal on "The Simpsons" ... and that McDonald's Jim Skinner was a far better manager than Seymour.
Tom Foster, a business writer at CNN International, took my Simpsons reference one delicious step further.
"BREAKING: Don Thompson bends to public pressure, adds steamed hams to $MCD menu," he tweeted.
Hilarious! Although that news would probably destroy sales at Krusty Burger franchises ... especially in Albany. Or is it Utica?
And then there's the curious name for the Kraft (KFT, Fortune 500) snacks spin-off. Kraft is calling it Mondelez and went out of its way to stress that it should be pronounced "mohn-dah-LEEZ." But I think many will see that "lez" and pronounce it "monh-dah-LAY." Which brings me to my fellow assistant managing editor Mark M. Meinero.
"The CEO of Mondelez should be Art Vandelay," he tweeted.
Nice! But wouldn't that mean Mondelez would have to set up an architecture subsidiary? As well as a unit that does imports and exports? Not to mention a division that sells latex?
The opinions expressed in this commentary are solely those of Paul R. La Monica. Other than Time Warner, the parent of CNNMoney, and Abbott Laboratories, La Monica does not own positions in any individual stocks.