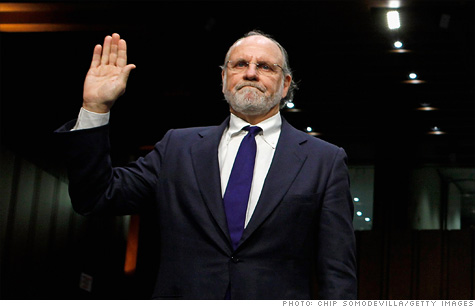 Jon Corzine testifies on Capitol Hill last year about the collapse of MF Global.
NEW YORK (CNNMoney) -- Congressional investigators say former MF Global CEO Jon Corzine ordered a $200 million transfer out of the firm in its final days, raising further questions about what he knew of some $1.6 billion missing from customer accounts.

In a memo made public on Friday, staff from the House Financial Services Committee cited an internal email from MF Global assistant treasurer Edith O'Brien saying that the $200 million transfer came "Per JC's [Jon Corzine's] direct instructions." This money, sent to JPMorgan Chase (JPM, Fortune 500) to cover an overdraft, came from customer accounts, the memo says.

The memo does not say whether Corzine knew if the transfer in question included customer property. Testifying under oath before the House Financial Services Committee in December, Corzine acknowledged ordering this transfer to resolve the overdraft but said he had no indication that the funds belonged to customers.

"I contacted the firm's back office in Chicago, and others, and asked them to resolve this issue, which I understood they did," said Corzine, a former governor and senator from New Jersey. Later in the day, he added, JPMorgan staff contacted him to make sure that the fund transfer did not violate industry rules.

"Since I had no personal knowledge of the issue, I asked senior people in the back office and the legal department to become directly involved in responding to JPMorgan Chase's request," he said. "I had explicit statements that we were using proper funds, both orally and in writing, to the best of my knowledge."

"I never gave any instruction to misuse customer funds, I never intended anyone at MF Global to misuse customer funds, and I don't believe that anything I said could reasonably be interpreted as an instruction to misuse customer funds," he added.

Still, the investigators' memo is prompting further speculation about who in MF Global's management knew that client funds were misused and whether or not Corzine was telling the truth. Corzine has claimed that he did not know that client funds were missing until October 30, two days after the transfer to JPMorgan.

Steven Goldberg, a spokesman for Corzine, said in a statement Friday evening that Corzine "stands by" his testimony before Congress.

"He never directed Ms. O'Brien or anyone else regarding which account should be used to cure the overdrafts, and he never directed that customer funds should be used for that purpose," Goldberg said. "To the contrary, as Mr. Corzine testified, he recalls having received written material indicating that the funds used to cure the overdrafts were appropriate for that purpose."

JPMorgan did not respond immediately to a request for comment, nor did staff from the Financial Services Committee.

MF Global filed for bankruptcy on October 31, after its disclosure of billions of dollars worth of risky bets on European government debt sparked downgrades from credit rating agencies and spooked investors. A last-ditch attempt by Corzine to sell the firm as it came under pressure from trading partners was scuttled by the revelation of the missing customer money.

The FBI and federal regulators are investigating potential wrongdoing in MF Global's final days, and lawmakers on Capitol Hill have already held several hearings on the issue. A House Financial Services subcommittee will again take up the issue next week, summoning O'Brien and several other witnesses from the firm to appear.

In the meantime, thousands of MF Global customers, from traders to farmers who used the firm for futures transactions, are still missing roughly $1.6 billion out of around $6 billion that was held at the firm.