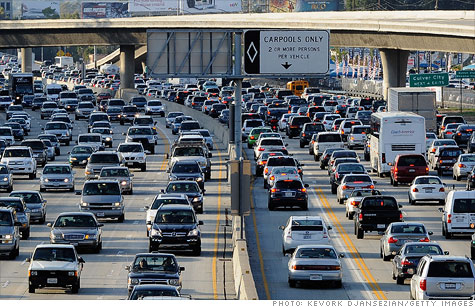 In the battle over rising gas prices, the oil industry pitches a plan to lower prices that sounds a lot like what Republicans are saying. Yet analysts doubt it will work.
NEW YORK (CNNMoney) -- The oil industry recently laid out a set of proposals it believes will instantly lower gasoline prices.
The proposals call for more domestic oil production, fewer environmental regulations, and for not raising taxes on the industry. They're basically what the Republican presidential candidates are calling for.
But analysts say those ideas will do little to lower gas prices in the short term. Here's why:
More drilling: The industry has long held that this is key to lowering prices, and "unlocking America's energy potential" is a theme all the Republican candidates are touting.
The industry has studies saying that if it was allowed to drill off both the East and West coasts, on all federal land that isn't a national park and in Alaska's national wildlife refuge, it could produce another 10 million barrels of oil a day by 2030 -- double the nation's current oil output.
Eighteen years is a long time to wait. But the industry says that if Obama merely announced such a plan, oil prices would drop overnight in anticipation of this new production.
"Markets are driven by expectations," Jack Gerard, president of the American Petroleum Institute, said on a recent conference call.
Gerard noted that oil prices fell $16 in the two days in 2008 after George W. Bush lifted a moratorium on drilling off the coasts, a moratorium that was effectively reinstated after BP's (BP) Gulf of Mexico disaster.
But oil traders are skeptical.
"Just because a policy is announced doesn't mean it can be easily or quickly attained, and the markets will discount that," said Addison Armstrong, director of market research at the brokerage Tradition Energy.
Those against more drilling note that U.S. oil production has increased by about 15% since Obama took office, and prices have only gone up.
Obama himself likes to take credit for this production increase, although actual federal acreage available for drilling is down slightly from the Bush administration.
The extra production comes mostly from private land and is spurred by higher prices, new technology and the expanded use of hydraulic fracturing.
Known as fracking for short, the process is highly controversial as many fear it is contaminating the ground water. Yet Obama has allowed it to continue mostly unfettered -- and has taken flack from the left as a result.
In the medium term, it's hard to say what impact increased production from the United Sates would have on oil prices.
Ten million barrels a day is a lot of oil, though critics say the industry would never be able to generate that much and note the potential high environmental costs of drilling everywhere.
Plus OPEC might simply cut that amount of production to keep prices high.
Either way, it's unlikely more drilling now would lower gas prices anytime soon.
Fewer regulations: More regulations are indeed looming for the oil and gas industry.
It's thought that Obama's Environmental Protection Agency will propose new standards designed to cut air pollution and global warming on both refineries and fuels.
The oil industry says the new fuel standards alone could add anywhere from six to nine cents to a gallon of gas.
Yet not implementing those regulations wouldn't lower the price of gas now -- analysts aren't expecting them to be put in place until after the election.
Plus, it's uncertain they will really cost that much.
"Historically, the cost impacts [of additional regulations] have been estimated to be higher than they really are," said Joseph Stanislaw, founder of J.A. Stanislaw Group, an energy and investment advisory firm.
Less taxes: The American Petroleum Institute has used every chance it gets to rally against proposals from the Obama administration that would eliminate up to $4 billion a year in tax breaks for the oil industry.
"No economist in the world will tell you gas prices can be reduced by increasing taxes," said API's Gerard.
Eliminating the tax breaks has been opposed by nearly every Republican politician as well.
But while eliminating those tax breaks might be bad for oil company shareholders, it's hard to see how they would have much of a bearing on raising or lowering gas prices.
What is driving prices: Fundamentally, what politicians on both sides of the aisle are missing is the fact that gas prices are not being driven by domestic policies.
They are being driven by oil prices, which are in turn rising mostly on fears over a confrontation with Iran.
"There's a lot of oil out there right now, but people are scared," said Stanislaw. "This is largely outside of the control of the United States."