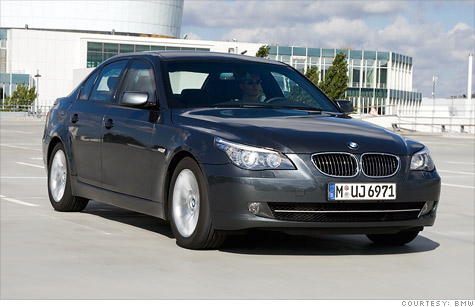 BMW is recalling 5-series and 6-series cars because battery covers may have been installed incorrectly.
NEW YORK (CNNMoney) -- BMW is recalling 367,000 5-series and 6-series cars in the United States because a battery cable cover in the trunk may have been incorrectly installed.
The problem could lead to chafing of the battery cable which could, in turn, lead to electrical problems, trouble starting and, in some cases, fire, the automaker said.
In all, BMW (BAMXF) is recalling 1.3 million cars worldwide for this problem.
The cars involved were manufactured between 2003 and 2010. Owners of affected vehicles will be notified by mail and will be asked to bring their vehicle to a BMW dealer for a 30 minute repair at no charge, the automaker said.
No accidents or injuries have been reported as a result of the problem according to BMW.
BMW has also recently announced a rash of recalls of the German automaker's BMW, Mini, and Rolls-Royce divisions over water pump problems.