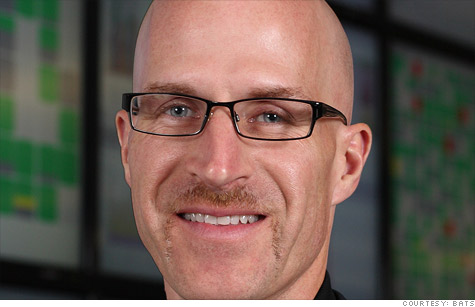 BATS Global Markets CEO Joe Ratterman will lose his title as chairman after the exchange operator withdrew its IPO last week amid technical failures.
NEW YORK (CNNMoney) -- BATS Global Markets says it will replace Joe Ratterman as chairman of the board, even as the company's directors expressed support for him as chief executive.
The announcement Tuesday came after technical difficulties derailed the exchange operator's initial public offering last week.
BATS operates electronic markets for stocks and stock options in the United States and Europe. The Kansas-based company is a leading platform for high-frequency, computer-driven trading.
In a brief statement, BATS directors said Ratterman "continues to do a tremendous job as CEO of BATS."
"We fully support his leadership, vision and strategic direction as BATS continues to enhance competition and foster innovation in markets worldwide," the statement said.
But the directors still voted to replace Ratterman as chairman under "an enhanced corporate governance structure."
Ratterman, who has been the company's chairman since 2007, will hold the position until a replacement is named, the directors said.
BATS officially withdrew its IPO late Friday after it was forced to halt trading in its own stock and others because the company's technology malfunctioned.
Ratterman publicly apologized for the problem, saying in a letter to customers that the company's failure to perform "has no excuses."
BATS is third largest exchange operator in the United States after NYSE Euronext (NYX, Fortune 500), which operates the New York Stock Exchange, and the NASDAQ OMX Group. (NDAQ)
The company said this week that its troubles have not impacted its market share.
As of Monday, BATS boasted a 10.3% share of the U.S. equities market and a 25.4% share of the European market.