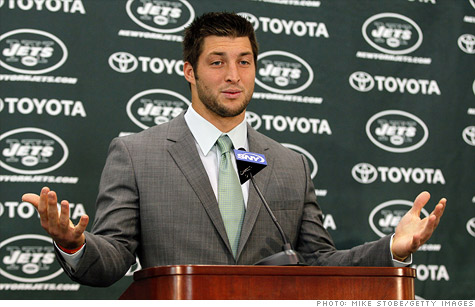 A federal judge has ordered Reebok to stop selling apparel with the names of both Tim Tebow and his new team, the New York Jets.
NEW YORK (CNNMoney) -- Nike scored a win in its lawsuit against rival Reebok over the sale of apparel with the name of quarterback Tim Tebow and that of his new team, the New York Jets.
U.S. District Court Judge Kevin Castel issued a temporary restraining order late Wednesday against Reebok, ordering it to stop selling the Tebow shirts and uniforms. The court also ordered Reebok to contact retailers to warn them that continuing to sell the items will expose them to legal liability, and must offer to repurchase the items from retailers.
Nike (NKE, Fortune 500) lost its effort to have the judge order the destruction of any Tebow items in Reebok's possession.
Nike's suit filed Tuesday argues it is the only company authorized and licensed to use Tim Tebow's name on clothing. Reebok, a unit of German sporting equipment and apparel-maker adidas (ADDDF), did not respond to requests for comment on the suit or the judge's order.
Tebow was traded from the Denver Broncos to the Jets on March 21, creating a media frenzy and a huge spike in demand for Tebow-related Jets apparel in the New York market.
But the trade came during a rare month when no company has the rights to sell licensed NFL apparel with both the team's name or logo and a player's name on it.
That's because the rights deals are in the process of switching from Reebok to Nike. Two different agreements cover licensing: one for players' names, which switched over on March 1; and one for the NFL teams, which goes into effect on April 1.
"There's generally nothing going on this time a year," said Matt Powell, analyst with SportsScanINFO, which tracks sales of licensed apparel. "A dead zone like this normally wouldn't matter in March, unless there's Tebow-mania."
To sell a piece of licensed apparel with both a team's name and a players' name, a company needs a rights agreement with both the National Football League and either the licensing arm of the NFL Players Association or the player himself.
Nike's suit says that it already has such a deal with Tebow, as well as with the union. But the NFL's own 10-year licensing deal doesn't change from Reebok to Nike until Sunday, April 1.
So right now Reebok can sell uniforms and other apparel with a team name and logo, but not with a player's name, unless it has a deal with that player, according to Nike's suit. But Nike can't sell any apparel featuring any team names or logos until this Sunday.
The judge's order against Reebok only runs through a hearing in the case set for Wednesday, April 4. But Nike will have the exclusive right to sell NFL licensed apparel until that time.
Tebow's uniform was the second most popular of any NFL player last season, according to Nike's suit. And according to SportsScanINFO, demand for Jets apparel soared last week after the trade was announced.
"Reebok has sought to take advantage of this unique, short-lived opportunity by supplying, without authorization or license, Tebow-identified New York Jets apparel to retailers in New York and elsewhere around the country," said the suit.
NFL spokesman Brian McCarthy said the league does not have a comment on the suit.