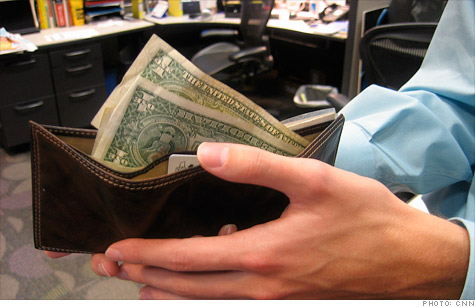 Spending posted the biggest gain since July in February.
NEW YORK (CNNMoney) -- Consumer spending jumped in February due to higher prices, far outpacing more modest gains in income.
The government reported that spending rose 0.8% compared to January, the biggest one-month jump since July of last year. But when adjusted for inflation, spending increased only 0.5%, a sign that higher prices for staples such as gasoline were driving much of the increase.
Income rose only 0.2% in the same period, meaning that consumers were dipping into savings to spend at the higher levels. The level of savings fell by $70.8 billion to $438.7 billion. That reduced the so-called savings rate, which compares after-tax income to spending, to 3.7% from 4.3% in January.
"At least in the February numbers, it does not appear that higher gasoline prices are deterring consumers," said Stuart Hoffman, chief economist with PNC Financial. "Instead, they appear to be lowering their saving in order to finance their spending. As the labor market continues to improve, income growth will allow consumers to boost spending."
The job market has been showing signs of improvement, which has helped lift overall income. Hoffman said he believes the estimated rise in income is likely to be revised higher in coming months, given that the employers have added more than 200,000 jobs a month in recent readings.
Hoffman said he was encouraged by the fact that Friday's report showed a 1.6% increase in spending on durable goods, which are typically big-ticket items. That was driven by strong auto sales during the month, as automakers reported the best new-car sales in four years.
Spending on nondurable goods, such as food and gasoline, rose 0.9%. with virtually all of that increase due to the higher prices.
But spending on services, such as airfare and cable TV, grew only 0.4%, which kept the overall spending increase to 0.8%.
February's income gain was less than the 0.3% rise forecast by economists surveyed by Briefing.com, while spending was more than forecasts of a 0.6% rise.
But the willingness of consumers to spend is a good sign for economic growth, since consumer spending represents more than two-thirds of the nation's economic activity.