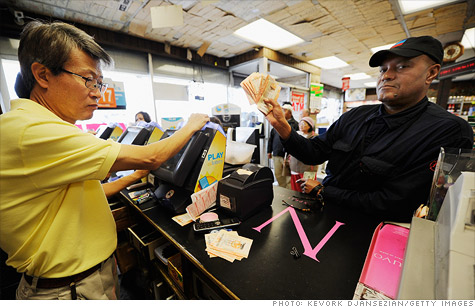 Mega Millions player Milton Smith showed off his lottery tickets in Hawthorne, Calif., on Thursday. He spent $1,080 on tickets, in the hope of scoring the $640 million jackpot.
NEW YORK (CNNMoney) -- Mega Millions players came out in droves right up to Friday night's deadline, inspired by the fattest jackpot in American history.
And that jackpot reached an estimated $640 million.
Before this, the largest Mega Millions jackpot was $390 million in 2007. It was split by two separate winners -- a married couple in New Jersey and a truck driver from Georgia -- who selected the same combination of numbers. (Mega Millions latest - CNN)
Jackpots are often split by multiple winners. One of the more extreme examples happens every year in Spain, which has the largest lottery jackpots in the world.
Spain's annual Christmas lottery, known as El Gordo (the Fat One), is the largest of them all. El Gordo's jackpot exceeded $900 million last year, but the winnings were divided by an entire village.
And, keep in mind that a winning ticket isn't always what it's cracked up to be. The curse of the lottery is that many winners have destroyed their lives with the sudden influx of cash.
The most infamous example of a tainted winner is Andrew "Jack" Whittaker, the owner of a construction company in West Virginia. He was already a self-made millionaire when he scored a $315 million Powerball jackpot in 2002.
Whittaker opted to cash out, at $111.7 million, and pledged 10% of his winnings to the Church of God.
Whittaker said he was "blessed," at the time. "It's really going to excite my daughter and granddaughter," he said. "They're going to be spending the money."
Things went quickly downhill. His life became a series of tragic mishaps, including reports of lawsuits, divorce, drunk driving and the untimely deaths of his daughter and granddaughter.
In one of his more infamous blunders, Whittaker reportedly took a briefcase stuffed with hundreds of thousands of dollars into a strip club. The briefcase was stolen after he got drunk and passed out.
The lottery curse was famously featured on the ABC television series "Lost." Hurley, played by Jorge Garcia, worked at a fast food franchise and lived with his mother until he won the fictional Mega Lotto Jackpot, which prompted him to buy the franchise and move into a mansion.
But then the franchise was destroyed by a meteorite, his beloved uncle dropped dead from a heart attack, and Hurley caught a flight on the ill-fated Oceanic 815.
That hasn't stopped people from playing Hurley's winning combination of numbers: 4, 8, 15, 16, 23 and 42. More than 41,000 gamblers played those numbers during a Mega Millions drawing last year and got four of six numbers correct. They each won $150.
The lottery rewards those who pick some of the numbers correctly, even if they don't get all six. Second-place winners of the Mega Millions jackpot, who pick the first five numbers out of six, will walk away with $250,000.
Tickets for the current drawing were sold until 10:45 p.m. ET on Friday, for $1 apiece. In New York, $1.6 million worth of tickets were sold between 8 a.m. and 9 a.m.
The odds of winning were one in about 175 million, according to the Mega Millions website.
The winning number was announced at 11 p.m. ET: 2, 4, 23, 38, 46 and 23. The winner can choose to take the jackpot in annual payments or in a lump sum of cash, which is $462 million for a $640 million jackpot.
If more than one winner picks the correct six-number combination, the jackpot will be divided among them. If no one picks correctly, the jackpot will increase to an estimated $975 million for a drawing on April 3.