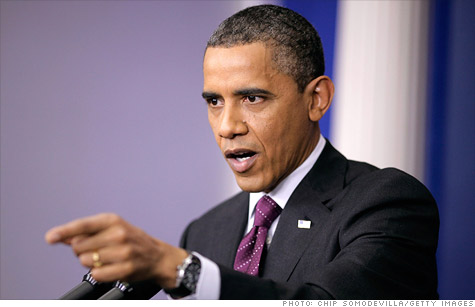 The Obama administration is expected to tighten sanctions against Iran. The move indicates it thinks the world will be able to cope with a loss of Iranian oil.
NEW YORK (CNNMoney) -- President Obama ratcheted up the pressure on Iran Friday, deciding to implement previously announced sanctions that will be the toughest to date.
The decision declares that world oil markets can be adequately supplied even if a significant portion of Iran's 2.2 million barrels a day in oil exports is taken off the table.
"There is a sufficient supply of petroleum and petroleum products from countries other than Iran to permit a significant reduction in the volume of petroleum and petroleum products purchased from Iran by or through foreign financial institutions," Obama said in a statement.
The sanctions, announced late last year, are aimed at getting Iran to give up its nuclear program -- a program Iran says is for peaceful purposes but many suspect is intended to produce a bomb.
The decision was widely expected.
"It's hard to imagine the White House would have invited the political ramifications of stalling on Iran," said Kevin Book, managing director at ClearView Energy Partners. That could have been "devastating for key voter blocs in battleground states."
The sanctions target Iran's central bank, which the country uses to facilitate its oil trade. They subject any bank, company or government that does business with Iran's central bank to U.S. sanctions.
In effect, it forces people to choose between doing business with Iran and doing business with the United States.
The sanctions are slated to take full effect June 28, and a full embargo of Iranian oil from the European Union is set for July 1.
The sanctions had already begun ramping up, and analysts estimate Iranian's exports dropped by about 300,000 barrels a day over the last few months.
Analysts cite that disruption, along with the potential for a full-blown conflict with Iran, as the main reason behind a 20% spike in oil and gasoline prices this year.
Inside Iran the sanctions have been taking a toll. Rampant inflation is underway as the nation's currency devalues. There are reports Iranians are having hard time getting all manner of imported goods, including food.
China, India and Japan have been the largest buyers of Iranian crude, and the Obama administration has been leaning on those countries to find other sources of oil.
Earlier this month the State Department said Japan, the EU, and a number of other countries have reduced their purchases of Iranian oil enough to avoid sanctions. If China, India, South Korea and 10 other nations don't follow suit by June 28, they could be sanctioned.
U.S. government officials have met with officials with Saudi Arabia to discuss the Saudis' ability to ramp up their output of oil, a senior administration official told CNN.
Saudi Arabia is thought to have offered the markets more crude, but replacing Iran's oil output isn't easy.
Analysts say nearly a million barrels a day could ultimately be lost from Iran. The world is estimated to only have the ability to produce between 1.5 and 2 million extra barrels of oil a day, mostly from Saudi Arabia. If Saudi Arabia has to increase its production to cover Iran's oil it would leave a razor-thin margin to cover for any other disruptions.
For world leaders, tightening sanctions on Iran while trying to find new supplies has been a delicate task. Oil prices could spike, which would actually benefit Iran.
Saudi Arabia isn't the only source of replacement oil though. Some of it could come from the U.S. Strategic Petroleum Reserve and others like it in Europe and the United Kingdom.
There's been increasing talk these nations could tap their reserves to prevent further run-ups in oil prices.
But tapping the SPR is a political challenge.
Politicians from the opposite side of the aisle always cry foul when the reserves are tapped, accusing the ruling government of simply pandering to voters by trying to lower gas prices.
Many contend the reserves should be used only in the event of an actual shortage. If a war breaks out with Iran, the world could suddenly find itself short not just one million barrels a day but the entire 17 million barrels a day that flow through the Strait of Hormuz -- a fifth of the world's total production could go missing.
"Caution is still the word," IHS CERA Chairman Daniel Yergin told a Senate panel Thursday when asked about tapping the SPR. "The whole system was set up to deal with disruptions, and there are a lot of uncertainties ahead."
Iran has repeatedly threatened to close the Strait but analysts doubt its ability to do it.
"Whether or not tapping [the SPR is] needed depends on how hard the Administration wants to push Iran's customers, how much the Saudis are willing to pump, and how much you need to keep in reserve should things really go south in the region," said Trevor Houser, an oil analyst at research firm the Rhodium Group.
--CNN's Jill Dougherty contributed to this report.