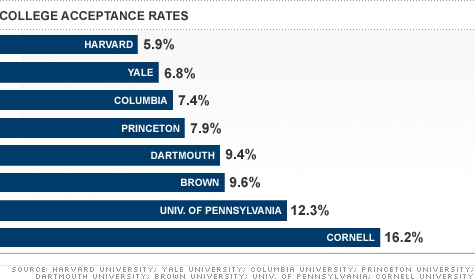 NEW YORK (CNNMoney) -- Your odds of getting into some of the nation's most prestigious colleges are shrinking.
The country's eight Ivy League institutions finished sending out their admission decisions to applicants late Thursday. And many of the elite schools -- including Harvard, Princeton, Dartmouth and Cornell -- are reporting that they accepted record low percentages of applicants for the upcoming school year.
While some schools were being more selective, other colleges had a bigger pool of applicants to choose from.
Harvard's acceptance rate was the lowest of the Ivy Leagues, despite a slight decline in applications. The school admitted 2,032 of the 34,302 students who applied -- amounting to an acceptance rate of 5.9%. That's the lowest rate on record for the university and down from last year's rate of 6.2%.
"We have always been conservative about the number of acceptances sent out at this time of year in order to avoid the possibility of overcrowding. Harvard's high graduation rate -- typically 97 to 98 percent -- leaves little margin for error," William Fitzsimmons, the dean of admissions and financial aid, said in a statement.
Fitzsimmons added that more than 14,000 applicants boasted scores of 700 or higher (out of 800) on the SAT critical reading test, 17,000 applicants had scores of 700 or higher on the SAT math test and 15,000 scored a 700 or higher on the SAT writing test. Plus, 3,800 applicants were ranked first in their high school classes.
Princeton University accepted only 2,095 students of the 26,664 who applied this year, bringing its acceptance rate to a historic low of 7.9%. Cornell University admitted 16.2% of the record 37,812 applicants this year -- its lowest acceptance rate ever.
Dartmouth College's admittance rate was a record low 9.4%, while University of Pennsylvania accepted 12.3% -- also the lowest level on record.
Meanwhile, Yale University admitted only 1,975 of the record high 28,974 students who applied this year -- amounting to a 6.8% acceptance rate, down from a 7.4% rate last year.
"We had another extraordinary applicant pool, and another challenging selection process," Jeffrey Brenzel, Yale's dean of undergraduate admissions, said in a statement. "We could not make offers to a large number of immensely talented young men and women."
Columbia University and Brown University were the only schools to accept a higher percentage of applicants this year. Columbia admitted 2,363 students, or 7.4%, of the 31,851 applicants this year -- up from last year's rate of 6.9%. Brown's admittance rate rose to 9.6%, compared to a rate of 8.6% last year.
Admitted students typically have until May 1 to accept offers from Ivy League schools.