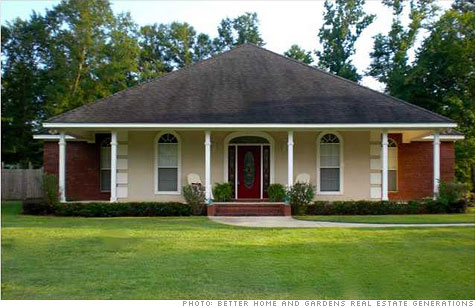 This home outside Mobile, Ala., sold for $180,000 but the appraisal was low at just $170,000. The buyer ultimately won an adjustment.
NEW YORK (CNNMoney) -- You find the home of your dreams. You're pre-approved for a mortgage. You've scheduled the closing. Then ... the appraisal comes in too low and the deal blows up.
Even as some mortgage standards have eased, hitting a needed appraisal value is proving a frustrating blocker for buyers and sellers and those looking to refinance.

If a buyer commits to a $200,000 home, but the appraisal comes in at just $180,000, the bank will finance only on the lower value -- and the buyer must come up with the difference.
Leslie Sellers, a real estate broker in Clinton, Tenn., has a client who recently went to contract on a Norris, Tenn., home. The appraisal came in 10% short.
"I explained to the appraiser that houses in Norris are older and sell for higher prices than other parts of the county," said Sellers, past president of the Appraisal Institute, a trade group. "[The appraiser] told me he was going with his value. We lost the sale."
The banks are one reason appraisals are coming in low. If they have to repossess a home, they don't want to get stuck with one worth far less than the mortgage.
"It's not like the lenders say, 'We want you to come in low,'" Sellers said. "It's more like, 'We want you to account for everything.' Some appraisers hear that and overcompensate."
It's particularly tricky if the home is in a falling market. There's even a box to check on standard appraisal forms saying "declining value," according to Gloria Shulman, the founder of Centek Capital Group, a Beverly Hills mortgage broker. That indicates falling home prices and banks will slash another 5% off the loan.
Foreclosures complicate appraisals too. These homes sell for about 30% less than similar non-foreclosure homes but appraisers often use them for comps.
In Alabama, Stephanie Young recently went to buy a three-bedroom, two-bath in Chunchula, outside Mobile. She was approved for an FHA loan and the sale price was $180,000.
Her agent, Josh Tanner of Better Homes and Gardens Real Estate Generations, said the appraiser told him there were no good comps.
"The appraiser had used a foreclosure sale that was right on a busy road," said Tanner. "That pulled the whole value down."
Young was stuck, needing $10,000 to make up the shortfall. The sellers couldn't come down. They were nearly underwater on their mortgage and lowering the price would push it into short sale territory. That requires bank approval, which could take months.
Young ultimately won an adjustment from the appraiser and the deal is scheduled to close this week.
Another path buyers can take after a bad appraisal is to renegotiate the home's sale price. Katie and Dave Dowling found a townhouse in Roxbury, N.J. The pair, who are teachers, liked the place better than other units in the complex.
"It came with a lot of upgrades," said Katie. "It was just nicer."
Unfortunately, the appraiser didn't take notice of better cabinets and appliances or other features. He appraised the home 3% lower than they needed.
Their solution was to ask the sellers to come down. They consented to a 2% haircut and the Dowlings came up with the other 1% themselves.
They expect they'll get the house, but they might not have if they didn't have extra cash to bring to the closing -- and a willing seller.