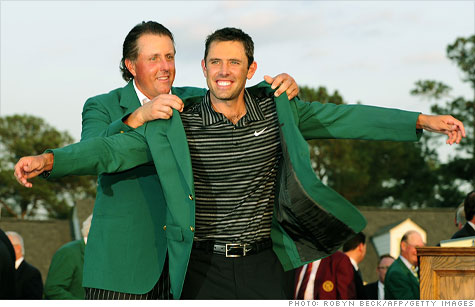 2010 Masters champion Phil Mickelson presents the ceremonial Green Jacket to last year's winner, Charl Schwartzel, at Augusta National Golf Club.
NEW YORK (CNNMoney) -- Ginni Rometty has already shattered the glass ceiling of the corporate world. But can she break the green ceiling at Augusta National Golf Club?
That's the question that has observers buzzing just a week before the Masters golf tournament returns to the famed Georgia club, following Rometty's ascension to the top job at tournament sponsor IBM earlier this year.
Speaking to CNN on Friday, women's rights activist Martha Burk said the time had come for the club to break its tradition of male-only membership and welcome Rometty, as it has done with the CEOs of other tournament sponsors.
She also pressured IBM to take a stand.
"The company has a huge responsibility here not to undermine its first female CEO, and if they accept anything less than a full membership ... they're going to undermine [her] and they'll be making a statement that they don't consider her equal to her predecessors," Burk said.
"IBM can pull out and say, 'We want nothing else to do with this, these are not the values of our company,' or the club can relent and say, 'We welcome women as members,'" she added. "Those are the only two options that are viable that are going to wash with the public."
Bloomberg News pointed out this week that Augusta has traditionally invited the CEOs of tournament sponsors IBM (IBM, Fortune 500), AT&T (T, Fortune 500) and Exxon Mobil (XOM, Fortune 500) to become members and don the club's iconic green jackets.
But Augusta's membership has been male-only since the club's opening in 1932, creating a potentially awkward situation for an institution that has had to fight charges of sexism on numerous occasions in recent years.
In 2002, Burk began a movement aimed at forcing the prestigious club, which counts a number of titans of industry and finance as members, to open its ranks to women.

But the club's then-chairman, Hootie Johnson, resisted these efforts, saying in a statement that gender integration would not come "at the point of a bayonet."

In 2006, Burk was among a group of Exxon shareholders who accused the company of violating its discrimination policies by supporting the tournament.
Augusta did not welcome its first African-American member until 1990, when Gannett (GCI, Fortune 500) television division president Ron Townsend joined the club. Non-members can play on the course only when hosted by members.
Augusta is famously secretive about its membership, and the club declined to comment on the issue, as did IBM spokesman Chris Andrews.

"Augusta is a private club, and their personal membership is an internal matter," Andrews said.
IBM runs the Masters website and media center, and has also developed mobile apps to help fans follow the tournament.
- CNN's Moni Basu contributed to this story