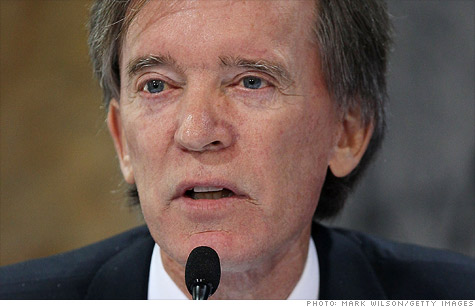 Pimco founder Bill Gross says the company is already looking to start up more actively managed ETFs.
NEWPORT BEACH, Calif. (CNNMoney) -- After only a month, Pimco's Total Return ETF is already outperforming its bigger peers, and Pimco founder Bill Gross is just getting started.
Gross, who manages the Total Return ETF (TRXT) as well as the flagship $250 billion mutual fund (PTTRX) that it seeks to mimic, said he's been pleased with the performance of the ETF and that Pimco is already laying the groundwork for "a number of" other actively managed ETFs.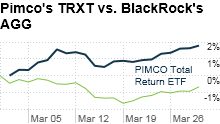 "We're not going to rest on this one," he told CNNMoney, during an interview in Pimco's Newport Beach, Calif., headquarters.
Like mutual funds, ETFs, or exchange-traded-funds, offer exposure to a wide array of investments, from the broad stock and bond markets to individual sectors. But they're often cheaper and more tax friendly than traditional funds. ETFs can also be bought or sold at any time of day since they trade on an exchange similar to stocks.
While the investment firm has yet to file with the Securities and Exchange Commission for specific ETFs, Gross said "natural" follow-up products would include funds that invest in different sectors of the bond market, such as corporate debt and mortgage-backed securities, as well as those that offer global diversification.
ETF industry watchers and participants have been hopeful that Pimco's presence will help draw more interest in the actively-managed ETF space, which has struggled to attract sizable assets and trading volumes compared with those that track broad indexes, such as the $100 billion SPDR S&P 500 ETF (SPY).
Pimco's Total Return ETF has already managed to rake in over $270 million in assets, making it the sixth biggest actively-managed ETF on the market. And since its March 1 debut, the ETF has also outperformed its major competitors, gaining 1.7% compared with the modest declines suffered by index-based Vanguard's Total Bond Market ETF (BND) and BlackRock's iShares Barclays Aggregate Bond ETF (AGG).
"I'm really satisfied with the volume, and with the narrow bid-ask ratio, which is reflective of interest and the future size of the fund," said Gross, who said he tracks the Total Return ETF from the first second that the market opens. "We're hopeful that it will be the biggest bond ETF one day."
To help drive even more interest in their new ETF, Pimco is changing the ticker from the inconspicuous "TRXT" to "BOND" this week.
"We decided to see which tickers hadn't been reserved yet, and were shocked to see BOND on the list," said Gross. "It was like, 'Duh!' I think BOND will be more visible than TRXT, so we're going to change it."
Gross is not only excited to prove that Pimco can achieve the same caliber of success with ETFs that it enjoys in the mutual fund world, he also thinks increasing the number of ETFs Pimco offers makes good business sense.
That's because he isn't too optimistic about the future of stocks or bonds. For the past 30 years, bonds have averaged an annual rate of return of more than 8%, while stocks have enjoyed an annual rate of return of just over 10%, according to Morningstar data.
But times have changed, said Gross.
According to Gross, stocks and bonds have had almost all of the juice squeezed out of them, and investors will be stuck in a low-return environment for the next few year.
In fact, the bond king says that the 30-year-old bond rally is over. And though a bear market has yet to begin, it's just a matter of time before inflation rears its head, said Gross.
"Investors should accept the near inevitability of less than double-digit returns," said Gross, who expects bonds to average modest returns of between 3% and 4%, and stocks to produce gains between 5% and 6%.
With less-than-stellar returns like that, Gross said investors may favor ETFs over mutual funds since they are known for offering lower expense ratios. The Total Return ETF boasts a gross expense ratio of 0.55% compared to the mutual fund's 0.85%.
Though ETFs may help investors improve their returns slightly, Gross also encourages investors to plan for a "Great Escape." He advises adding shares of companies, such as Coca-Cola (KO, Fortune 500), that pay consistent dividends and have healthy exposure to emerging economies like China and Brazil.
Gross' latest call follows his notorious bad bond bet last year. In February 2011, Pimco's Total Return Fund slashed its exposure to U.S. government debt to zero, betting that U.S. Treasury prices would fall and yields would spike. But that, of course, didn't happen. Instead, the 10-year yield fell from a lofty 3.75% last February to end 2011 well below 2%.
Now, Gross says that unless the United States is the next Japan, rates can't fall much lower.
As he buckles down for a prolonged low-return environment, Gross is also less than hopeful about the United States' political future.
He said President Obama was once one of his "great hopes for change" but is now one of his "biggest disappointments." And Gross' words for Republican frontrunner Mitt Romney were even less kind: "artificial and untrustworthy."