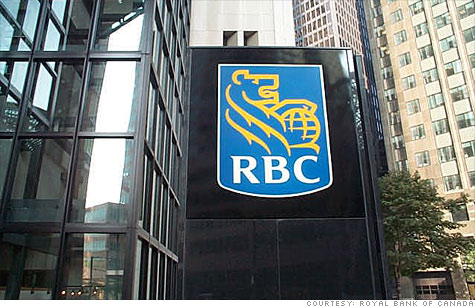 The Commodity Futures Trading Commission accused the Royal Bank of Canada on Monday of massive trading scheme aimed at avoiding taxes.
WASHINGTON (CNNMoney) -- The Royal Bank of Canada illegally traded hundreds of millions of dollars worth of stock futures with two of its subsidiaries to avoid Canadian taxes, a U.S. regulator charged Monday.
The Commodity Futures Trading Commission alleges that Canada's largest bank broke U.S. laws and regulations by "washing sales" in a non-competitive way on a U.S. futures exchange called OneChicago.
The trades are under fire because they "were not negotiated at arm's length" and "were instead designed and controlled by a small group of senior RBC personnel acting on RBC's behalf," the regulator said in its complaint, which was filed in federal district court in New York. (Read: Regulations won't prevent another MF Global debacle)
The CFTC said the trades, conducted over a nearly three-year period ending in May 2010, amounted to a "scheme of massive proportion."
The trades represented most of the activity on OneChicago's market at those times.
The trades were allegedly designed as part of the bank's strategy to take advantage of "lucrative Canadian tax benefits" to companies that hold securities in offshore trading accounts.
Before making each trade, the bank would find stocks in U.S. and Canadian companies that RBC believed would generate a tax benefit, according to the lawsuit. The bank and its subsidiary bought and sold those stocks, and also bought and sold futures based on the stocks, to offset the stock purchases.
The suit also accused the bank of concealing the scheme from OneChicago and the CME Group (CME), which oversaw OneChicago's compliance with regulations.
Futures markets are a way for investors to "discover prices and shift risks," said David Meister, director of the CFTC's enforcement division. "As we allege, RBC not only designed and executed a wash sale scheme that undermined that purpose, it went a step further and misled the exchange into believing that its conduct was lawful."
Royal Bank of Canada spokesperson Sanam Alaghband said the charges are "meritless," adding that the regulator was consulted before any trades were made.
"Given no objection to the trading activity by either the exchange or the CFTC in 2005, it is absurd to now claim these trades were either fictitious or wash sales," Alaghband said.