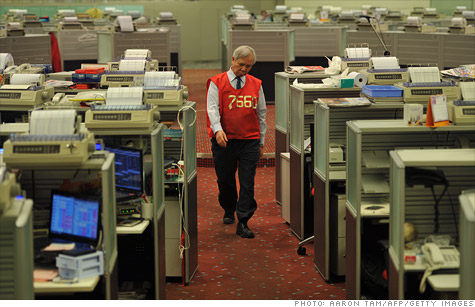 In the last month, Deloitte quit as the auditor of two Hong Kong listed Chinese companies, which could be signal more trouble ahead for Hong Kong listed firms.
WASHINGTON (CNNMoney) -- For the past two years, Muddy Waters has been the ultimate whistle blower of questionable accounting practices by Chinese companies trading on U.S. and Canadian stock exchanges. Now, the research firm says investors need to beware of Chinese companies trading in Hong Kong.
"There was a propensity for fraudulent Chinese companies to list their shares in the West, but I think that trend has slowed down quite a bit ever since short sellers like Muddy Waters have come onto the scene," Muddy Waters founder Carson Block told CNNMoney during an interview at the Council of Institutional Investors spring conference in Washington, D.C.
"Now we're starting to hear rumblings out of Hong Kong," Block said. "Could Hong Kong be the next bastion of fraudulent revelations? It's difficult to say. But investors need to be wary."
He noted that in the last month, Deloitte -- one of the Big Four accounting firms -- quit as auditor of two Hong Kong-listed Chinese companies.
Boshiwa International, a maker of children's clothing, and milk formula producer Daqing Dairy Holdings both announced Deloitte's resignations and said they are looking for replacement firms. Both companies' shares have been suspended from trading in Hong Kong since mid March, when the accounting firm stepped down.
Deloitte China confirmed it resigned from both firms, but declined further comment.
Meanwhile, Moody's Investor Services withdrew its rating on Daqing Dairy last week, and issued a negative outlook amid concerns about the company's financial reporting after Deloitte's resignation.
Block told CNNMoney that his firm will issue a report and a "sell rating" on a Chinese company within a few weeks, but declined to disclose any further details.
Block also said that Muddy Waters has been probing companies "outside the China realm" and will likely take a short position on a non-Chinese company sometime this year. A short position is essentially a bet that a stock will decline.
Muddy Waters made a name for itself last year, after the company accused Chinese timber company Sino-Forest of fraud. The scathing report triggered a massive sell-off in shares of Toronto-listed Sino-Forest before they were eventually suspended, and forced hedge fund high roller John Paulson to book deep losses.
Reports out of Muddy Waters have brought down several other companies including Rino International (RINO) and China MediaExpress (CCME).
Muddy Waters' most recent fraud allegations against Chinese digital market firm Focus Media (FMCN) initially sparked a sharp sell of in the company's stock. But shares of Focus Media have recovered since the November report.