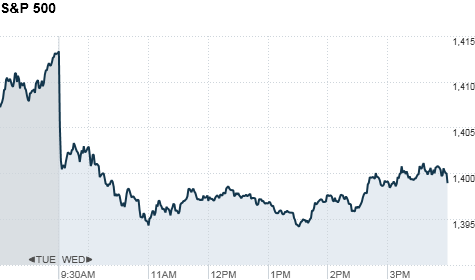 Click chart for more markets data.
NEW YORK (CNNMoney) -- U.S. stocks dropped Wednesday, rebounding somewhat into the close, as investors grew increasingly anxious about what the markets might look like without additional stimulus from the Federal Reserve.
Some investors had been hoping the Fed would move toward another round of quantitative easing, but those prospects seemed less likely following Tuesday's release of minutes from last month's meeting of the central bank.
"Markets don't like living in a world where they don't have an active Fed to support them," said Chris Beauchamp, an analyst at IG Markets in the United Kingdom.
Still, investors and analysts aren't expecting the markets to suddenly crash if the Federal Reserve doesn't renew its bond-buying program before it expires on June 30, 2012.
"As investors start pricing out the possibility of a QE3, it becomes easier for the Fed to cut the addiction," said Drew Matus, senior U.S. economist at UBS. "You'll get to the point quickly enough that there will be few people expecting the Fed to do anything."
Meanwhile, adding to Wednesday's anxiety, payroll processing firm ADP reported a lower-than-expected increase in private-sector jobs for March ahead of the opening bell.
And once again, Europe became difficult for investors to ignore, after Wednesday's auctions for Spain's debt failed to draw robust demand.
Wednesday's sell-off was broad, with financial stocks leading the decline. Goldman Sachs (GS, Fortune 500), JPMorgan Chase (JPM, Fortune 500), Citigroup (C, Fortune 500), and Bank of America (BAC, Fortune 500) all fell more than 2%.
Gold dropped more than 3%, hitting its lowest levels since early January. In a sign of increasing anxiety over the markets' trajectory, the VIX also spiked roughly 10%. The index is still far below 30, though, the level that typically signals a high level of investor fear.
The Dow Jones industrial average (INDU) ended the day down 124 points, or 0.9%.
The S&P 500 (SPX) fell 14 points, or 1%. The Nasdaq (COMP) slipped 45 points, or 1.4%.
"Today is definitely a pullback from recent runs," said Joe Cogan, vice president of international equities at Topeka Capital. "Investors are very hesitant. Volumes have been up on days where things have sold off, and light on the days when the market has rallied."
U.S. stocks closed lower Tuesday, with momentum stalling after the Fed minutes were released.
Looking ahead, investors will be closely monitoring the Labor Department's jobs report for March, which is due out Friday. However, U.S. markets will be closed in observance of Good Friday, and bond markets will close early.
Companies: Yahoo (YHOO, Fortune 500) announced 2,000 job cuts, as the Internet giant continues to restructure.
JPMorgan Chase said the Commodity Futures Trading Commission fined the bank with a $20 million civil penalty to settle issues stemming from its work with Lehman Brothers before its bankruptcy.
Agricultural tech firm Monsanto (MON, Fortune 500) raised its guidance and reported quarterly earnings that beat analyst expectations before Wednesday's open.
Burger King announced Tuesday that it planned to re-list on the New York Stock Exchange within 90 days, after its owners sold 29% of the company to a U.K. investment fund.
General Electric (GE, Fortune 500) shares fell, after rating agency Moody's announced that it had downgraded the company's debt due to risks associated with its finance subsidiary, GE Capital Corp.
Shares of IBM (IBM, Fortune 500) and cruise ship operator Carnival Corp. (CCL) both dropped on reports of analyst downgrades.
Shares of disk drive company SanDisk (SNDK, Fortune 500) fell sharply, after the company cut its outlook.
Currencies and commodities: The dollar gained against the euro and the British pound but fell against the Japanese yen.
Oil for May delivery slipped $1.94 to $102.07 a barrel.
Gold futures for April delivery fell $51.80 to $1,620.20 an ounce.
World markets: The European Central Bank said Wednesday that it was holding its main interest rate steady at 1%.
European stocks closed down sharply. Britain's FTSE 100 (UKX) dropped 2.3%, the DAX (DAX) in Germany stumbled 2.8%, and France's CAC 40 (CAC40) fell 2.7%.
In Asia, Japan's Nikkei (N225) tumbled 2.3%. Markets in Hong Kong and China were closed for the Tomb Sweeping holiday.
Bonds: The price on the benchmark 10-year U.S. Treasury rose, pushing the yield down to 2.23%.