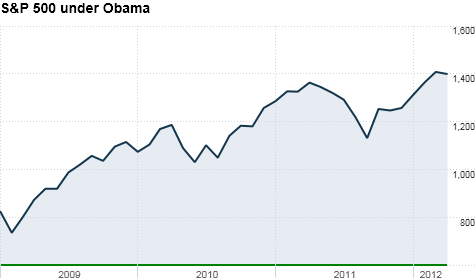 Stocks have historically performed better during a Democratic administatation, but Wall Street is ready for a change, according to a CNNMoney survey.
NEW YORK (CNNMoney) -- The stock market may be up more than 75% since President Obama moved into the White House, but Wall Street is looking for a change come November.
Stocks have historically performed better during a Democratic administration, yet a whopping 70% of investment strategists and money managers say a Republican president will be better for the stock market going forward, according to an exclusive CNNMoney survey.
"The Republican party is better suited to drive positive economic and financial-market growth," said Phil Orlando, chief equity market strategist at Federated Investors, adding that President Obama doesn't deserve full credit for the improvements in the economy and financial markets during this term.
Rather, the Federal Reserve's "aggressive" monetary policy decisions that have added cheap liquidity to the markets have been the bigger drivers over the past three years, he said.
Under the leadership of Ben Bernanke, the Fed has held it key interest rate at a record low of between 0% and 0.25% since December 2008. It has also executed several other stimulus programs, including two rounds of bond purchases.
In terms of policies, some of the experts surveyed said a Republican president would have a more favorable tax plan, along with regulatory policies that would encourage business to hire, and in turn, spur further economic growth.
For example, most Republican tax plans call for lowering the tax rate on capital gains, or eliminating taxes on investment gains entirely, while President Obama seeks to raise them for high-income households.
Similarly, Republican presidential candidates have used the rejection of the Keystone pipeline as a hammer when attacking the Obama administration over high gas prices, and note that building Keystone would create much needed jobs.
A Republican win for the White House would also lift the general mood on Wall Street, said Mark Frey, vice president at Cambridge Mercantile Group.
"I think the desire for a Republican president has as much to do with general investor sentiment as it has to do with actual policy," he said. "Republican are considered to be more business friendly, and more focused on the individual rather than the collective."
A handful of those surveyed, however, are hoping the Obamas stay on in Washington.
"All Republicans want to do is cut government spending, but you can't stimulate the economy without it," said Donald Selkin, chief market strategist at National Securities.
Plus, Obama has to be given credit for saving the auto industry, which has been a big factor in increasing manufacturing jobs, he added.
"Wall Street is just interested in its own pocketbook," said Selkin. "They want a Republican because it could mean lower taxes and less regulation. But special exemptions bother me, and without regulation, banks go crazy."
Of course, some say who wins the presidency hardly matters, and that the key to the market's performance lies in the hands of Congress -- and not one that is so divided that nothing gets done.
"Gridlock is typically good for the markets since it means less change in the regulatory and legislative environment allowing greater clarity for businesses and investors," said Jeffery Kleintop, chief market strategist at LPL Financial. "But that is not the case as we look to 2013."
Kleintop says "substantive action is necessary and only a unified Congress is likely to be able to take that action." Since the Republican party already controls the House of Representatives, investors will likely welcome a Republican-dominated Senate as well, he said.